SASEC Energy Projects in Nepal Increase Clean Energy Use
20 June 2014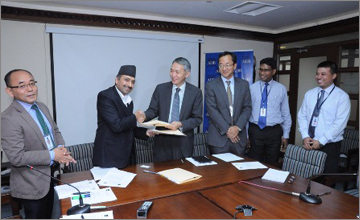 Nepal's Alternative Energy Promotion Centre (AEPC) has installed the country's first wind-solar hybrid system in Dhaubadi village of Nawalparasi district, under regional technical assistance financing from the Asian Development Bank (ADB). The system is now providing services to 46 rural households. This successful pilot project demonstrates the feasibility of developing clean energy options in Nepal and is an approach that can be replicated across the country.
Handing over the project to the AEPC of the Ministry of Environment in June 2014, Mr. Yongping Zhai, Director, Energy Division, South Asia Department, ADB noted support to the Government of Nepal from ADB for similar initiatives in other rural areas of the country under its proposed SASEC power system expansion project.
"Under the proposed SASEC power system expansion project, the off-grid component with more than 4.0 MW of mini hydro and 500 kW mini grid-based solar or solar and wind hybrid system will be added. This will provide access to electricity and facilitate productive energy use activities in rural locations from various sources of energy like mini hydro, wind energy, solar energy and wind solar hybrid energy systems," he stated.
To date, ADB has invested a total of $638 million in SASEC energy projects in member countries Bangladesh, Bhutan, and Nepal. Three energy projects worth $248 million have been implemented under SASEC in Nepal.
Related Links:
Effective Development of Distributed Small Wind Power Systems in Asian Rural Areas RETA Report
ADB News Release, "ADB Hands Over Nepal's First Wind-Solar Hybrid System to AEPC", 9 June 2014
The Himalayan Times, "'Clean Energy Village' Relies on Wind' Solar Power", 9 June 2014
Ekantipur Report, "Asian Dev Bank hands over wind-solar project to AEPC", 10 June 2014
Energy Bangla, "ADB Hands Over Nepal's First Wind-Solar Hybrid System to AEPC", 11 June 2014