Launch of $1.5 Million Japan Fund for Poverty Reduction Technical Assistance for Trade Facilitation in Nepal
22 May 2014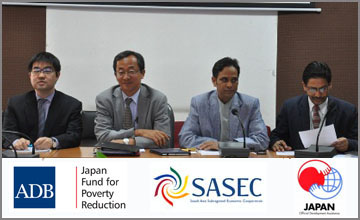 Mr. Madhu Kumar Marasini, Joint Secretary, Ministry of Finance represented the Government of Nepal at the official launch of activities under a $1.5 million technical assistance project financed by the Japan Fund for Poverty Reduction (JFPR), on 21 May 2014 in Kathmandu, Nepal. The capacity development technical assistance will support trade facilitation initiatives being carried out under the South Asia Subregional Economic Cooperation (SASEC) Trade Facilitation Program. Mr. Hisashi Hoshino, First Secretary, Embassy of Japan in Nepal, Mr. Kenichi Yokoyama, Country Director for ADB Resident Mission in Nepal, and Mr. Toshihide Aotake, Advisor to Executive Director for Japan ADB, were also present at the launch.
The technical assistance was approved by ADB in September 2013 and will support Nepal in implementing necessary trade facilitation reforms and measures, in line with the ADB-financed SASEC Trade Facilitation Program, approved in November 2012. It will work to better align the customs procedures and practices of Nepal with internationally accepted standards, to make trade speedier and less costly, and improve client services. Specific activities include:
Promoting consensus on Nepal's accession to the Revised Kyoto Convention (RKC) by helping the Government of Nepal assess the regulatory impact of proposed reforms and regulations. This will be complemented by activities to raise understanding and awareness among key stakeholders of the benefits and implications of the RKC, in collaboration with the World Customs Organization (WCO);
Enhancing the capacity of Nepal customs authorities to operate automated customs management systems through trainings on issues related to customs automation and a national single window;
Establishing client service centers at selected border points to better facilitate the sharing of information and interaction with border agencies and traders;
Establishing a publicly-accessible Customs Information Portal that allows Nepal Customs to share accurate and detailed information on trade- and customs-related laws, regulations, procedures, and documentation; and
Developing a business plan for the approved Four-Year Customs Reform and Modernization Strategy and Action Plan (2013-2017) that outlines resource mobilization and the implementation of priority activities.
The Government of Nepal will provide counterpart support in the form of staff and office accommodation, and other in-kind contributions. The technical assistance will run until August 2015.
Related links:
Supporting Participation in the South Asia Subregional Economic Cooperation Trade Facilitation Program TA Report
The Himalayan Times, "ADB' Japan to modernise Nepal's customs", 21 May 2014
New Spotlight News Magazine, "ADB's Japan Fund Support to Nepal", 21 May 2014
The Kathmandu Post, "ADB'S Japan Fund to Aid Customs Modernisation", 22 May 2014