India Fast-tracks International Highways in South Asia
18 December 2017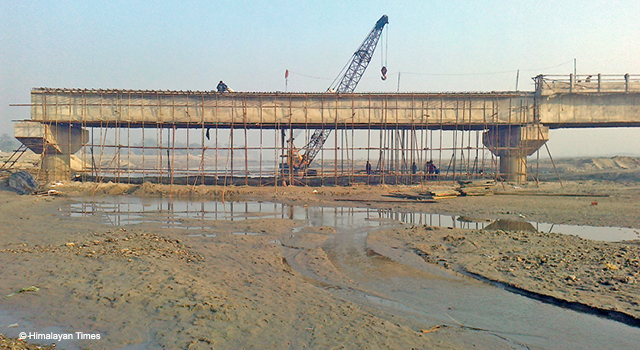 India's Ministry of Road Transport and Highways (MoRTH) will prioritize plans to construct 2,000 kilometers of roads linking India's major highway corridors to international trade points in South Asia. Implemented under the Bharat Mala project, this project is worth Rs 25,000 crore (around $3.9 billion). MoRTH Minister Nitin Gadkari highlights that this will facilitate export/import trade with Bangladesh, Bhutan, Myanmar, and Nepal.
Complementing initiatives to improve road infrastructure in South Asia, India approached Bangladesh and Nepal through diplomatic channels to discuss implementation of the Bangladesh-Bhutan-India-Nepal (BBIN) Motor Vehicle Agreement (MVA) in Bangladesh, India, and Nepal, according to a press release issued by MoRTH. The three countries have already ratified the MVA.
MoRTH also held a meeting to review progress of India-Nepal projects in the first week of December, including:
Mechi River Bridge, the end point of Asian Highway 2 in India leading to Nepal. According to the review, the project status is on track, with the letter of intent to work on the project to be issued by the contractor.
Piprakothi-Raxaul Road – the National Highways Authority of India has received bids for restoration of the highway.
Mirganj Bridge, a link to Nepal's Biratnagar Customs, is awaiting proposals for temporary bridge reinforcement following a bridge survey.
Roads linking India and Nepal borders are being upgraded by India's Ministry of External Affairs. Aside from projects by the Government, the Asian Development Bank, and the Japan International Cooperation Agency are also implementing several road projects along the India-Nepal transport corridor.
Related Links: