$762 Million for Road and 'Last-Mile' Connectivity in Northeastern India
28 May 2014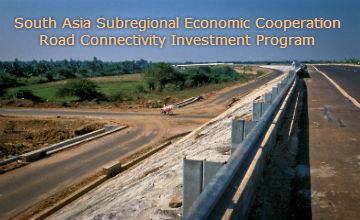 The Asian Development Bank (ADB) approved a multitranche financing facility of $500 million for the SASEC Road Connectivity Investment Program (SRCIP) in March 2014, which aims to increase domestic and regional trade through North Bengal and Northeastern Region (NB-NER) of India. The Central and Manipur State Governments have committed counterpart funding of $262 million.
The overall investment program will rehabilitate and upgrade about 500 kilometers (km) of regional connectivity roads—part of the Asian Highways and South Asian Association for Regional Cooperation Highway Corridors—and include both national highways and state roads. SRCIP is a key strategic thoroughfare that seeks to build cooperation and opportunity between South and Southeast Asia, including the bordering countries of Bangladesh, Bhutan, Myanmar, and Nepal. Safer and more efficient transport within India and regionally will boost trade at many levels. The investment program also focuses on
Improvement of roads covering last-mile connectivity in the states of West Bengal and Manipur;
Improvement of state roads in Manipur to avoid congestion and accommodate increases in international traffic;
Development of the potential to transform NB-NER into a regional trading hub; and
Provision of alternate routes to national highways for greater access to isolated border areas, as well as alternative optimal routes for NB-NER to reach established deep water seaports in Bangladesh, India, and Myanmar.
SRCIP will also provide capacity development and implementation support to Manipur Public Works Department (MPWD), especially in strengthening financial management systems and managing larger contracts with performance-based maintenance.
The ADB-financed first tranche of $300 million, together with $125 million in counterpart funding, will upgrade approximately 300 km of road, and provide capacity development and implementation support for MPWD.
Intraregional trade comprises only 2% of total trade in South Asia despite being one of the fastest growing regional economies. Road transport still remains the dominant mode among SASEC countries, making up about 65%-70% of freight movement. In India, most transactions with neighboring countries take place by road and the role and development of transport networks is expected to increase along with easing of cross-border trade restrictions.
Looking further afield, trade between SASEC countries with India and other Southeast Asian countries such as Myanmar and Thailand is currently by sea, which makes trading slow and expensive—especially for landlocked countries, such as Bhutan and Nepal, and underdeveloped regions, such as NB-NER. Industry estimates that improved connectivity with the India-Myanmar-Thailand trilateral highway could increase India's trade with ASEAN to about $100 billion by 2020. Improving connectivity in NB-NER is the key to regional integration of South and Southeast Asia.