ADB Holds Regional Cooperation Week; SASEC Team Recognized
29 November 2017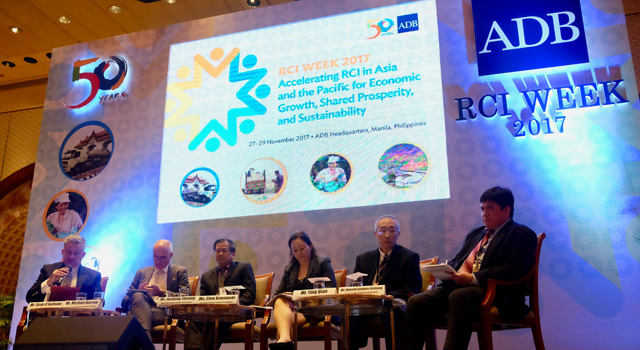 Mr. Takehiko Nakao, President, Asian Development Bank (ADB), in his inaugural address, stated that regional cooperation is crucial to ensuring Asia's economic future and noted the critical need to overcome infrastructure gaps, and respond to climate change within a regional dimension.
President Nakao was speaking at the opening of the Regional Cooperation and Integration (RCI) Week, held on 27-29 November 2017, at ADB Headquarters in Manila, Philippines. RCI Week was organized by the ADB RCI Thematic Group; Operations Departments; and the Budget, Personnel, and Management Systems Department.
Mr. Nakao also cited the need to overcome infrastructure gaps, and noted the value of infrastructure projects such as the Port of Chittagong in Bangladesh under the South Asia Subregional Economic Cooperation (SASEC) Program in promoting multimodal transport in landlocked countries.
ADB also held conferences to asses strategic RCI themes and innovations in Asia and the Pacific and to define ADB implementation of its RCI Operational Plan, 2016-2020.
ADB has been supporting subregional initiatives in Asia and the Pacific for more than 25 years, including the Greater Mekong Subregion Program, the Central Asia Regional Economic Cooperation Program, and the SASEC Program.
SASEC Progam Recognized
ADB also gave out RCI Best Performers Awards 2017 as part of its observation of RCI Week.
The SASEC Program was recognized for its endorsed SASEC Vision: Powering Asia in the 21st Century, the program's vision of transforming the SASEC subregion into Asia's economic powerhouse by 2025, by fostering rapid growth through stepped up regional cooperation efforts.
The SASEC Road Connectivity Investment Program (SRCIP) Multitranche Financing Facility was also recognized during the event. SCRIP promotes connectivity along a key strategic thoroughfare integrating South and Southeast Asia, and bordering Bangladesh, Bhutan, Myanmar, and Nepal. It includes innovative financing and implementation arrangements for the Mechi River bridge.
Related Links: