Bangladesh NBR to Implement the AEO Program by December
23 November 2017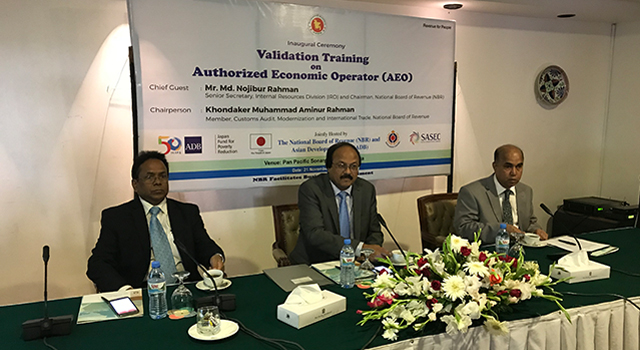 Bangladesh's National Board of Revenue (NBR) will pilot the Authorized Economic Operator (AEO) Program by December, registering inter alia manufacturers, importers, exporters, brokers, carriers, consolidators, intermediaries, ports, airports, terminal operators, integrated operators, warehouses and distributors as parties that comply with security standards set by the World Customs Organization. The AEO Program aims to fast-track the country's trade processes while maintaining trade security, and is a requirement under the World Trade Organization (WTO) Trade Facilitation Agreement.
On 23 November 2017, NBR organized a National AEO Validation Workshop, with support from the Asian Development Bank, attended by 20 AEO officers, validators, and account managers. The Workshop aimed to provide Customs officials with a clear picture of the AEO, including procedures for application, validation, and audit.
Mr. Md. Nojiur Rahman, Internal Resources Division Senior Secretary and Chairman, NBR, lauded the AEO pilot program in the inaugural ceremony.
Mr. Ehteshamul Hoque, World Trade Organization-accredited Technical and Operational Adviser on AEO, highlighted private sector interest for the program. He recounted a number of consultation sessions held with stakeholders, and emphasized the need to identify AEO criteria and benefits that the NBR will offer.
AEO companies shouldinvest in supply chain security, and comply with Customs requirements. They are also expected to have crisis management systems and incident recovery systems in place, and maintain a record of keeping a satisfactory system for management of commercial records, financial stability, and cargo security, deeming them trustworthy to government agencies.
AEO benefits may include faster release of goods from ports, reduced rate of inspections, nominal bank guarantee submission, and deferred payment.
Related links: