Bangladesh Should Increase Energy Production to Achieve SDGs
22 November 2017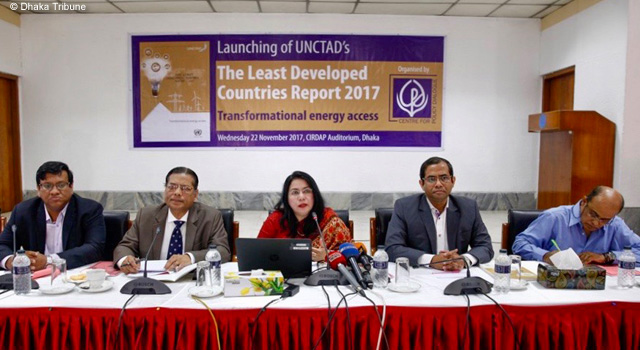 Experts at the launching of The Least Developed Countries Report 2017 urged the Government of Bangladesh to strengthen the country's electrical system and address electricity governance and finance to ensure affordable power supply to homes and businesses.
The Least Developed Countries Report 2017 was launched on 22 November 2017 in Dhaka, Bangladesh, at an event organized by Centre for Policy Dialogue (CPD). The report, prepared by the United Nations Conference on Trade and Development (UNCTAD), notes that half of Bangladesh's rural population has no access to electricity. The report was first unveiled by UNCTAD on 21 November 2017 in Geneva, Switzerland.
"Bangladesh has significantly increased electricity production over the last 10 years, but there are still some challenges," said Professor Mustafizur Rahman, CPD. "The country needs to increase energy production to achieve the target of being a developed country by 2041."
Nepal and Bhutan, meanwhile, are on track to achieving the Sustainable Development Goal (SDG) of universal access to modern energy.
"Achieving universal access to modern energy globally is critically dependent on achieving it in LDCs (least developed countries). However, for most of them, doing so by 2030 will be an enormous challenge," said Ms. Fahmida Khatun, Executive Director, CPD.
Related Link: