Speech: Accelerating RCI in Asia and the Pacific for Economic Growth, Shared Prosperity, and Sustainability
27 November 2017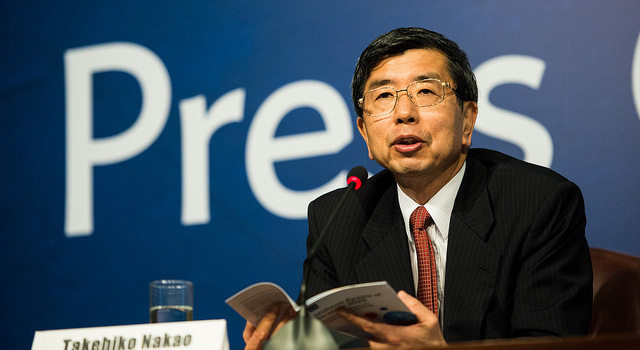 In his keynote address at the Asian Development Bank (ADB) Regional Cooperation and Integration Week, Mr. Takehiko Nakao, ADB President, stated that regional cooperation is critical to securing Asia's economic future. He noted ADB's continued commitment to support regional cooperation as a means to reduce inequality and overcome infrastructure gaps, and cited specific SASEC projects as effective examples.
The ADB Regional Cooperation and Integration Week was held on 27-29 November 2017, in Manila, Philippines. President Nakao's speech was first posted on www.adb.org.
Accelerating RCI in Asia and the Pacific for Economic Growth, Shared Prosperity, and Sustainability
I. Introduction
Good morning, ladies and gentlemen:
I am pleased to make a few remarks and share my thoughts at RCI Week 2017. The theme of this year's RCI Week—how to accelerate regional cooperation and integration for economic growth, shared prosperity, and sustainability—is important and timely.
I welcome participants from around the world, including 33 of our developing member countries (DMCs), think tanks, and development partners.
I believe that regional cooperation is critical to securing Asia's economic future. For 50 years, ADB has supported regional cooperation and integration. It is ingrained in our Charter and will continue as part of our strategic agenda.
II. Recent economic development and outlook
Let me start by reviewing the region's recent development outlook.
Developing Asia continues to be the world's fastest growing region, with 2017 GDP expected to grow 5.9%. Growth has been supported by more favorable external conditions. Private consumption in the region is also strong.
Trade is rebounding. Trade growth was negative in 2015 and for most of 2016 in many Asian countries, but it has recovered this year. The region's trade grew 7.4% in the first half of 2017.
Despite strong economic growth, Developing Asia faces many challenges. Let me outline a few key longer-term challenges and discuss how RCI can help to address them.
III. Key challenges and the role of RCI
1. Need to reduce inequality
The first challenge is to reduce inequality.
Asia has large income gaps across countries and widening spatial inequality within countries. In many of ADB's developing member countries, disparities exist between coastal and interior regions, between urban and rural areas, and between key production centers and lagging border areas.
Economic corridors can help reduce cross-country and within-country inequality by linking secondary towns and lagging border areas with major production centers. The Guangxi Regional Cooperation and Integration Promotion Investment Program in the People's Republic of China is an example of how economic corridors can enhance growth potential and further economic integration.
Economic corridors within countries can be scaled up across borders. Examples include the ADB-supported Vizag-Chennai economic corridor linking northeast India through Myanmar with Southeast Asia.
2. Need to overcome infrastructure gaps
As a second challenge, massive infrastructure gaps need to be overcome.
Multimodal transport infrastructure, namely interconnecting rail, road, sea, and air transport with logistics infrastructure, expands trade and facilitates participation in global and regional value chains, particularly for SMEs.
Rail transport for freight can be promoted as an alternative to roads in order to achieve greater cost effectiveness. This has been the case with the Railways Strategy for Central Asia Regional Economic Cooperation (CAREC), 2017–2030; the Greater Mekong Railways Association; and the Greater Mekong Subregion (GMS) Regional Investment Framework, 2013–2022.
Gateway ports are critical to multimodal transport, especially for landlocked countries. The Port of Chittagong in Bangladesh under the South Asia Subregional Economic Cooperation (SASEC) program is a prime example.
Cross-border energy infrastructure, such as transmission lines, gas pipelines, and hydropower energy trade, connect energy deficit subregions such as South Asia with energy surplus subregions such as Central Asia.
Public–private partnerships (PPP) are often essential for large-scale cross-border energy projects. The Turkmenistan-Afghanistan-Pakistan-India (TAPI) natural gas pipeline is a flagship PPP of the ADB-supported CAREC program.
Information and communications technology (ICT) broadband connectivity promotes cross-border B2C (business-to-consumer) e-commerce and B2B (business-to-business) digital trade.
In the Pacific, ICT regional submarine cable systems open digital trade opportunities.
3. Need to promote "open regionalism"
The third challenge is to achieve "open regionalism." 
We should resist an inward orientation and pursue open trade and investment regimes through global and regional frameworks.
Open regionalism strengthens RCI and complements global systems.
Through RCI, trade facilitation should be further promoted, including through customs modernization and the removal of behind-the-border barriers.
High quality regional free trade agreements can accelerate not only trade but also cross-border services and investments. The Regional Comprehensive Economic Partnership (RCEP) and the reinvigorated Trans-Pacific Partnership (TPP) can be such instruments. The ASEAN Economic Community is another good example.
Open regionalism can also support multilateral frameworks more straightforwardly. Subregional programs, such as CAREC, support the preparation of non-WTO countries to join the WTO and meet post-WTO accession obligations.
4. Need to build greater financial resilience
The fourth challenge is to build greater financial resilience.
Better integrated financial systems, globally and regionally, encourage economic activity, support the start-up of businesses, and provide additional resources to developing countries. They may also bring greater financial inclusiveness within countries.
But integrated financial systems make economies more susceptible to contagion and shocks. Supervision and regulation must be strengthened.
Cross-border cooperation in supervision and regulation for financial institutions, particularly for those deemed systemically important, are key. The ASEAN Banking Integration Framework and Qualified ASEAN Banks scheme, supported by ADB, are making progress.
We must achieve greater cooperation on capital market development. The Asian Bond Market Initiative (ABMI) under ASEAN+3 is an important initiative to deepen capital markets.
There is also ongoing cooperation in regional economic surveillance such as the ASEAN+3 Macroeconomic Research Office (AMRO) in Singapore.
5. Need to respond to climate change and provide regional public goods
As the fifth challenge, there is a need to address risks like climate change and provide better regional public goods.
The frequency and severity of natural disasters are increasing. This requires regional cooperation such as regional disaster risk financing facilities, in addition to national efforts and global commitments, to improve mitigation and adaptation.
SARS and the Ebola virus disease as well as HIV and tuberculosis require us to better prepare and manage collective actions in response to epidemics. Epidemics do not respect borders. Greater coordination of health policies, standards, quarantine arrangements, and response mechanisms is needed.
Cooperation on water use among countries along the Mekong River is another important example of working together for regional public goods.
RCI has an opportunity to widen its scope by including knowledge sharing and cooperation in health, elderly care, education, and other social sectors. A regional approach to tourism promotion presents another opportunity. The GMS's Regional Investment Framework 2022 and CAREC's 2030 strategy promote cooperation in these areas.
IV. How ADB supports RCI
1. RCI as a hallmark of ADB
RCI is a hallmark of ADB. ADB itself was created in 1966 to promote RCI in the Asia and Pacific region.
ADB has been an inventor and facilitator of subregional programs. ADB launched the GMS program in 1992, CAREC in 1997, and SASEC in 2001. ADB acts as the secretariat for these programs.
In addition, ADB has been an important partner for ASEAN-related initiatives and for cooperation among Pacific island countries.
I am glad that an increasing number of multilateral and bilateral development partners, including the World Bank, JICA (Japan International Cooperation Agency), and DFID (Department for International Development of the UK), are joining ADB-led subregional initiatives.
2. Finance quality RCI projects
ADB finances quality RCI projects. ADB has set an RCI-related lending volume target of 30% to be achieved by 2020. In 2016, RCI-related lending reached $5.4 billion, or 27% of total lending volume.
We are cofinancing RCI projects with existing and new partners. Some CAREC road projects are cofinanced with the Asian Infrastructure Investment Bank.
Bankable PPPs are critical to bridging the financing gap. ADB has a dedicated Office of Public–Private Partnership that provides transaction advisory services for such projects.
Our Private Sector Operations Department pursues nonsovereign RCI projects, such as agribusiness value chain investments in Timor-Leste.
To prepare high quality RCI projects, ADB applies sound economic analysis and adheres to stringent social and environmental safeguards.
3. ADB as an RCI knowledge provider
ADB plays the role of an RCI knowledge provider. It publishes the annual Asian Economic Integration Report and studies on economic corridors.
ADB supports ASEAN+3 policy dialogue through technical assistance and knowledge work.
ADB's Economic Research and Regional Cooperation Department works with the CAREC Institute in Urumqi and the ADB Institute in Tokyo, as well as other research partners, in exploring innovative ideas and strengthening capacity building activities for RCI.
V. Purpose of RCI Week
To conclude, the purpose of RCI Week is to reaffirm the importance of RCI for economic development in Asia and showcase RCI work by ADB, our development partners, and prominent think tanks such as CSIS (Center for Strategic and International Studies), with a view to building greater momentum for RCI.
I hope the presentations and panel discussions over the next two days will spark a vibrant exchange of views on how RCI can play an important and effective role to meet the region's longer-term challenges and how we can accelerate RCI in Asia and the Pacific.
I look forward to your active participation.