Groundbreaking Ceremony for Northern Bypass in Phuentsholing, Bhutan
27 October 2017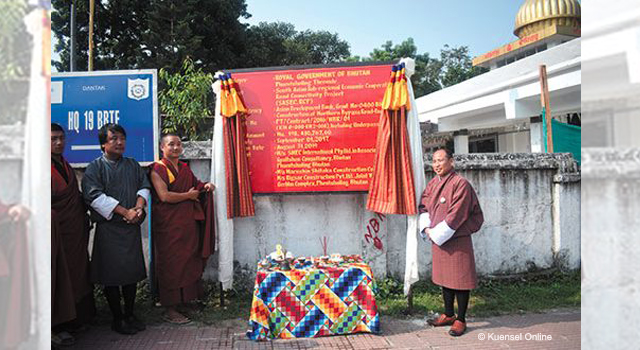 A groundbreaking ceremony on 26 October 2017 marked the start of the Northern Bypass construction in Phuentsholing, Bhutan, which includes the approximately 2.7-kilometer bypass road and 120-meter bridge over Omchhu. The project, funded by the Asian Development Bank (ADB) under the SASEC Road Connectivity Project, will improve Bhutan's regional connectivity, providing access to remote areas in the eastern part of Bhutan, near the Indian border, and open up access to better economic opportunities and social services.
The Northern Bypass will help decongest heavy traffic in Phuentsholing by providing an alternate route for heavy trucks, according to Mr. Devi Charan Dhimal, Project Coordinator.
The contract was awarded to a joint venture between M/s Marushin Shitaka Construction Company Limited, a Japanese firm, and M/s Rigsar Construction Private Limited, a Bhutanese company. Target completion for the bypass road is August 2019, and for Omchhu Bridge February 2020.
ADB approved $50.35 million for the project, supplemented by $18.65 million from the Royal Government of Bhutan. Other key project outputs include the Phuentsholing mini dry port and Alay land Customs station.
Related link: