Bangladesh, India Finance Ministers Sign Third LoC, Note Good Relations
5 October 2017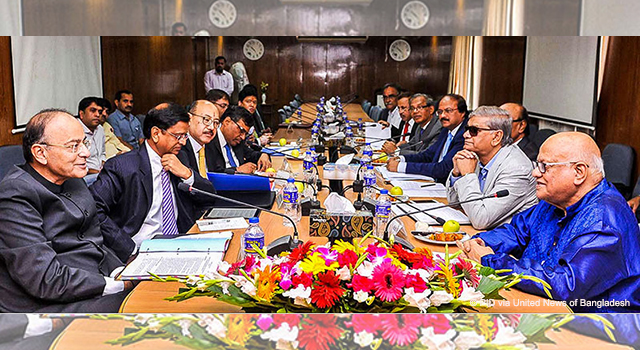 Mr. Arun Jaitley, Finance Minister, India, undertook a three-day visit on 3-5 October 2017 to Dhaka, Bangladesh, to meet with his counterpart, Mr. Abul Maal A. Muhith, Finance Minister, Bangladesh, and sign two agreements on behalf of their respective governments:
The Third Line of Credit (LoC) from India to Bangladesh worth $4.5 billion. First announced during Bangladesh Prime Minister Sheikh Hasina's visit to India in April 2017, this LoC will be used to implement development projects, including projects to boost Bangladesh-India connectivity in power, railways, roads, shipping, ports; and
The Joint Interpretative Notes between India and Bangladesh to update the Bilateral Investment Promotion Agreement to the new investment framework.
Mr. Jaitley lauded the present relations between India and Bangladesh after a meeting with Mr. Muhith. Relations between the two neighbors stand out as a model for other countries to emulate, according to Mr. Jaitley.
The Indian Finance Minister also emphasized the importance of connectivity to the success of Bangladesh-India bilateral development partnership, subregional economic cooperation, and economic prosperity in the South Asia region. He noted the priority placed by both Governments to restore pre-1965 linkages encompassing road, rail, water, and coastal shipping connections, to help increase bilateral trade and foster people-to-people contacts between the two countries.
Related Links: