Fourth India-Bangladesh JCC Meeting Discusses Progress of Key Bilateral Initiatives
23 October 2017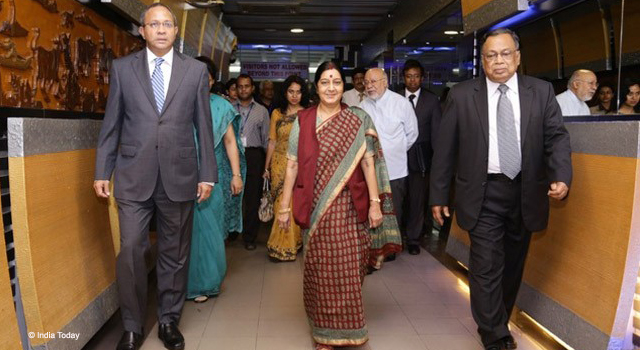 The Fourth Meeting of the India-Bangladesh Joint Consultative Commission, held on 22-23 October 2017 in Dhaka, Bangladesh, was co-chaired by Ms. Sushma Swaraj, Minister of External Affairs, India, and Mr. Abul Hassan Mahmood Ali, Foreign Minister, Bangladesh. The meeting discussed Bangladesh-India bilateral relations, reviewing progress on key initiatives and decisions in areas including trade and investment, security, connectivity, border management, power, energy, shipping, people-to-people exchange.
The Meeting noted:
Need to facilitate further trade and investments, including progress of Indian special economic zones in Bangladesh, new border haats, and improvement of land port infrastructure;
Cooperation in the power and energy sector. India is now supplying 660 megawatt (MW) of energy to Bangladesh, and will soon supply an additional 340 MW electricity from Tripura through the Comilla grid. New proposals for supply of electricity from West Bengal and India's northeast region, collaboration in nuclear energy, renewables, LNG, LPG, and gasoil were also discussed;
Trilateral hydropower cooperation among Bangladesh, India, and Bhutan, with MoU to be signed soon. According to Mr. Muhith, India agreed to facilitate import of electricity to Bangladesh from hydropower projects in Nepal.
Focus on increasing connectivity through restoration of pre-1965 links encompassing road, rail, water and coastal shipping links. Ms. Swaraj emphasized the increased frequency of the Dhaka-Maitri express, the planned inaugural run of end-to-end Immigration and Customs services for the Maitri Express and commercial run of the Kolkata-Khulna Bandhan service, planned bus services linking more India-Bangladesh cities, and additional immigration check points along the border;
Proposed new regional connectivity initiatives by Bangladesh, including (a) Dhaka-Chennai-Colombo air connectivity, (b) Chittagong-Kolkata-Colombo shipping connectivity, (c) Panchgarh-Shiliguri rail link, (d) internet connectivity for Bhutan through Indian territory, (e) trade route connecting Nakugaon Land port (Bangladesh) to Gayleyphug (Bhutan) via Dalu (India). The Indian side agreed to positively consider these proposals;
Implementation of the Bangladesh-Bhutan-India-Nepal (BBIN) Motor vehicle Agreement (MVA) between Bangladesh, India and Nepal through exchange of letters, with provision for Bhutan to join later; and
Joint efforts to advance the Bay of Bengal Initiative for Multi-Sectoral Technical and Economic Cooperation (BIMSTEC) agenda, and promote mutually beneficial collaboration at multilateral fora including the UN.
In her speech, Ms. Swaraj emphasized how India accords its relations with Bangladesh the utmost importance. As the country's long-standing development partner, India has extended three lines of credit amounting to $8 billion—the largest development assistance extended by India to any country.
Mr. Muhith lauded the historic heights reached by Bangladesh-India initiatives, and thanked Ms. Swaraj for her leadership in taking Bangladesh-India bilateral relations forward.
Related Links: