SASEC Program Upgrades to Mobile-Friendly Website with Improved Security
27 October 2017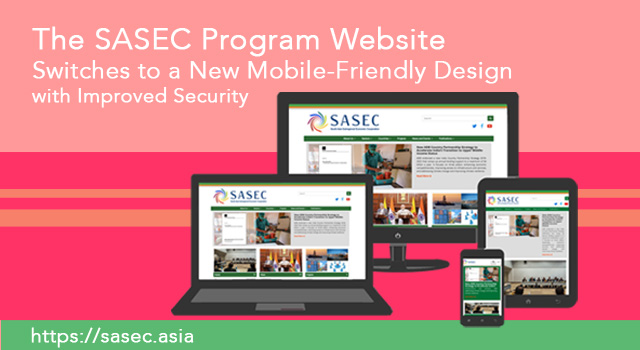 The new-look South Asia Subregional Economic Cooperation (SASEC) Program website is fully mobile-friendly and automatically adjusts to fit the screen you are using — computer, tablet, or mobile phone — making it a convenient choice for staying in touch with regional cooperation throughout South Asia. SASEC has also updated to HTTPS for enhanced cyber security and user privacy.
The SASEC Program website is a one-stop shop for the latest information on SASEC projects, events, news, and other knowledge products, as well as providing a regularly updated window onto regional cooperation events and news on a wider basis throughout South Asia.
SASEC brings together Bangladesh, Bhutan, India, Maldives, Myanmar, Nepal, and Sri Lanka in a project-based partnership to promote regional prosperity, improve economic opportunities, and build a better quality of life for people in the region. The Asian Development Bank serves as the SASEC Secretariat.
Since 2001, SASEC member countries have approved and implemented 47 ADB-financed investment projects worth almost $9.2 billion, in the transport, trade facilitation, energy, and economic corridor sectors. The transport sector accounts for 31 projects worth a cumulative $7.3 billion, followed by energy (11 projects worth $1.3 billion), economic corridor development (2 projects worth $484.0 million), trade facilitation (1 project worth $48.0 million), and ICT ($18.0 million).