New ADB Country Partnership Strategy to Accelerate India's Transition to Upper Middle-income Status
27 September 2017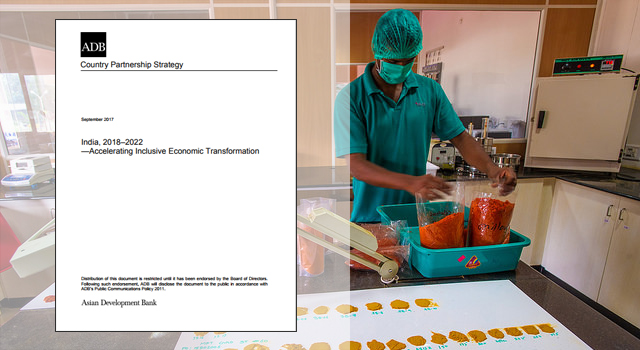 The Asian Development Bank (ADB) endorsed a new India Country Partnership Strategy (CPS) 2018-2022 that ramps up annual lending support to a maximum of $4 billion a year to fast-track India's inclusive economic transition toward upper middle-income status.
The ADB-India CPS focuses on three main pillars of activity:
Enhancing economic competitiveness to create employment and increase well-paid jobs. Under this pillar, ADB will help expand infrastructure networks for transport, energy, and urban centers along economic corridors, enhance corridor business environment, and address skill shortages to support industrialization;
Improving access to infrastructure and services by addressing infrastructure bottlenecks in lagging regions, improving municipal services for the urban poor, and supporting rural investments to close the income gap with cities. This will be supported by more efficient public sector management; and
Addressing climate change and improving climate resilience by promoting sustainable natural resource use, higher renewable energy consumption, green corridors on high-voltage transmission lines, and ensuring climate proofing in infrastructure projects.
Transport, energy, and urban infrastructure and services projects are set to receive around 85% of the lending. These projects will be complemented by technical assistance undertaking strategic studies, building capacities, and preparing well-developed projects.
ADB also plans to substantially enhance regional cooperation and integration operations, building on the South Asia Subregional Economic Cooperation (SASEC) Vision launched by SASEC Finance Ministers in New Delhi in April 2017. Regional assistance will focus on transport connectivity, energy trade, trade and investment facilitation for intra-SASEC and global value chain integration, and building synergies between economic corridors.
Mr. Kenichi Yokoyama, Country Director, ADB India, noted that the CPS supports the Government's goal of inclusive and sustainable growth grounded by economic structural transformation and job creation, with an increased focus on low-income states.
India is among the world's fastest growing large economies, with an average growth rate of more than 7% since FY2012. The country has more than halved its poverty rate since FY2004 to 21.9%, and achieved most of the Millennium Development Goals.
India is a founding member of the SASEC Program, a project-based partnership that aims to promote regional prosperity, improve economic opportunities, and build a better quality of life for the people of the subregion.
Related Links: