Nepal Prime Minister Discusses Connectivity, Trade Enhancement with Bangladesh Prime Minister and Sri Lanka President
23 September 2017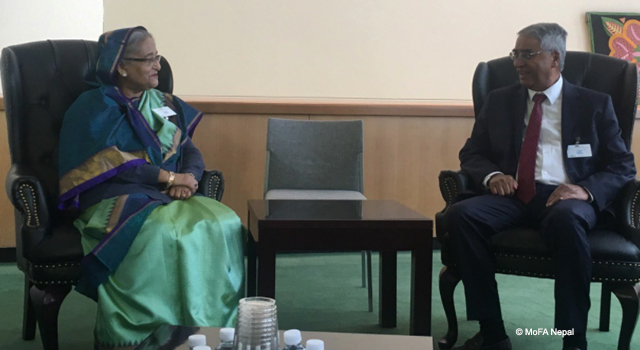 Nepal Prime Minister Sher Bahadur Deuba met with heads of state of South Asian Association for Regional Cooperation (SAARC) countries, including Bangladesh, Sri Lanka, Afghanistan, and Pakistan, on the sidelines of the United Nations General Assembly (UNGA) Meeting in New York, USA. As current SAARC chair, Nepal Prime Minister Deuba highlighted the need to continue deepening regional cooperation and connectivity, and host another SAARC Summit.
In his meeting with Bangladesh Prime Minister Sheikh Hasina, transport connectivity enhancement between Bangladesh and Nepal, maximizing the Bangladesh-Bhutan-India-Nepal framework, energy cooperation, and possible joint investment in Nepal's hydropower were discussed.
The meeting with Sri Lanka President Maithripala Sirisena noted six decades of bilateral partnership between Nepal and Sri Lanka, and considered how to further increase trade, tourism, and economic cooperation between the two countries. The two leaders also recalled their historic and religious linkages. Sri Lanka President Sirisena expressed willingness to visit Nepal.
During an informal meeting on the sidelines of the UNGA, the SAARC Council of Ministers reiterated their commitment to regional cooperation and reviewed progress in implementation of past decisions and the upcoming 19th SAARC Summit.
Related link: