Roundtable Urges Increased India-Myanmar Connectivity, Trade
2 September 2017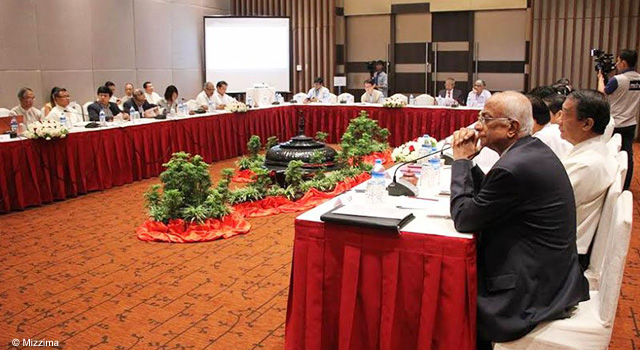 A roundtable discussion held in Myanmar noted the need to substantially increase connectivity, trade and diplomatic relations between Myanmar and India.
Officials from the two countries participated in the India-Myanmar Dialogue: Act East Policy and India-Myanmar Relations, held on 2 September 2017 in Yangon, Myanmar. The forum was organized by Parami Roundtable and Mizzima Media Group.
Dr. V.S. Seshradi, former Indian Ambassador to Myanmar chaired the discussion on India's Act East Policy and India-Myanmar relations, while Dr. Myo Thant of Parami Roundtable Group chaired the discussion on "Challenges to India-Myanmar Relations and Way Forward." Myanmar's Integration with the World, edited by Dr. Prabir De and Prof. Ajitava Raychaudhuri, was also released at the roundtable.
The forum looked at the evolution of India's Act East Policy and its partnerships with the Association of Southeast Asian Nation, Bay of Bengal Initiative for Multi-Sectoral Technical and Economic Cooperation, and the Mekong-Ganga Cooperation.
Dr. De, who served as panelist at the forum, noted the need to build more trade and investment relations between the two countries, to work on connectivity, and to increase cooperation and synergies between northeaster India and western and northwestern Myanmar.
Related Links: