Launch of Asian Development Outlook 2014
5 April 2014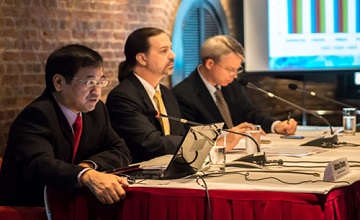 The Asian Development Outlook, ADB's flagship economic publication provides comprehensive macroeconomic analysis in Asia including growth projections by country and region. The Asian Development Outlook 2014 forecasts that developing Asia will grow 6.2% in 2014 and 6.4% in 2015.
The special theme chapter of ADO 2014 notes that 80% of the region's population lived in countries with worsening inequality during 1990s and 2000s, and that developing Asia lags behind other regions in public investment to promote equity. The regional growth outlook is dependent on continued recovery of major industrial economies and the need to better use fiscal policies to address widening income gaps.
South Asia remains one of the slowest growing subregions—although growth is forecast to improve by 5.3% in 2014 and 5.8% in 2015. Inflation in South Asia is expected to increase to 6.4% in 2014, before subsiding to 6.2% in 2015 on country-specific factors such as currency depreciation, pressures on food prices, and energy price adjustments as subsidies are withdrawn.
Outlook by subregion
Economic Trends and Prospects in Developing Asia: Bangladesh
Slower expansion in exports with growth improving next year after increased investment in infrastructure and skills development
Inflation expected to rise in 2014 due to supply disruptions, wage increases in the public and private sector, and expected increases in electricity and fuel prices
More public resources should be mobilized to finance large infrastructure investment requirements in electric power, gas, ports, roads, railways, and urban services, to enhance the skills base and develop the garment industry, helping diversify the economy and raise global competitiveness and growth.
Economic Trends and Prospects in Developing Asia: Bhutan
Growth slowed for a second year but GDP growth is expected to rebound as construction of a series of hydropower projects aims to expand the industry and export power to India
With 62% of Bhutanese working in agriculture, encouraging private sector development and creating jobs outside of this sector is an important macroeconomic priority
Increasing access to finance is also another constraint of business development that can be addressed by a better credit information system and a greater variety of financial products
Economic Trends and Prospects in Developing Asia: India
The financial slowdown bottomed out last year but strong policy measures helped stabilize the currency
Although weaknesses remain with persistent inflation, investment bottlenecks, fiscal imbalances, and lack of structural reforms, growth forecast is expected to pick up modestly
To reach a more dynamic manufacturing industry, business regulation should be simplified including the use of single-window clearance mechanisms, infrastructure development scaled and manufacturers clustered in national investment and manufacturing zones
Economic Trends and Prospects in Developing Asia: Nepal
GDP growth is down due to a significant drop in agriculture and delay in introducing the full budget but is expected to pick up upon adoption of the full budget
Inflation in Nepal tends to move in tandem with its largest trading partner, India, and has pegged its currency to India's rupee
Effective market supervision and monitoring are needed to rectify market distortions, address financial policies and structural bottlenecks, and remove uncertainty over supplies of motor fuel and cooking gas
ADB's Economic and Research Department's Deputy Chief Economist Juzhong Zhuang and Assistant Chief Economist Joseph Zveglich Jr. launched the report on 1 April at the Foreign Correspondents Club in Hong Kong, China and were interviewed by global and regional media. Thirteen field offices launched ADO 2014, focusing on their country economic outlook.
Related Links:
Live Webcast
News Release
ADO Publication