Commentary: Overcoming NTBs for Exports to India
22 August 2017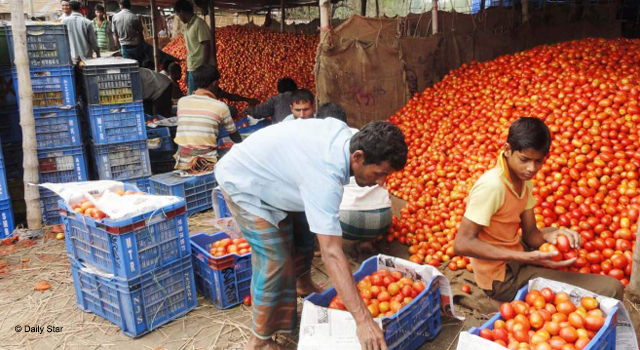 This commentary by Ms. Ferdaus Ara, Chief Executive Officer, Business Initiative Leading Development, examines the effect of non-tariff barriers to trade on Bangladesh-India exports by discussing the restriction on imports of tomato from Bangladesh as an agricultural commodity to India. Exporting tomato—a staple ingredient in Indian food—from Bangladesh would benefit Indian consumers. However, policies in India, including the Plant Quarantine Order on Regulations of Import into India 2003, need to be amended, indicating Bangladesh as a country from which India can import vegetables with appropriate quarantine measures in place.
This commentary first appeared on the Financial Express.
Overcoming NTBs for exports to India
Ferdaus Ara
Huge trade gap between Bangladesh and India and non-tariff barriers (NTBs) have remained a bone of contention between the two countries. A recent dialogue in Dhaka attempted to see some of the fundamental issues as it was thought that NTBs so far were taken up in a very generalised way. But the issue needs lengthy infrastructural development, government-to-government decisions etc. Studying some specific areas of agriculture was a rare option. If NTBs were addressed, its social and trade impact would be striking.
Four specific vegetables such as potato, green chilli, tomato and brinjal were studied by a reputed research think-tank with an objective that if exported, these produces from Bangladesh could give consumers of some under-developed states of India a significant level of price benefits. It suggested allowing export of these items from Bangladesh to India.
Currently, tomato and some agricultural produces cannot be imported for consumption purposes in India at all. Tomato imports from Thailand and Israel are allowed on a limited scale for sowing purposes only. Of course, it requires phytosanitary certificate, and other testing requirements to prove it as bacteria-free. These have to meet some other special conditions of imports as per rules and regulations prevailing in India.
The study findings show that there is surplus production of tomato in Tripura, Assam, Manipur and Meghalaya while in other north-eastern states of India (NEI) such as Nagaland and Mizoram tomato production is scanty. Tomato is one of the staple foods there and import is allowed within the states of India.
However, tomato price is higher in Tripura than in border areas of Bangladesh. The study also shows that price of a kilogram of tomato is equivalent to Rs 13 at Anandabazar, Brahmanbaria, Bangladesh which is Rs 50 in Golbazar, Agartala with a price difference of 26 per cent. Tomato has surplus production but price is high in Tripura. The reason is not clear. From the researchers' point of view, it was thought that the figure mentioned from the sources of the government was inflated. Transportation as well as volume of informal trade has not been included. There may be production surplus but deficit in some north-eastern parts of India escalates prices.
Consumer gain would be higher if export from Bangladesh is allowed. Average gain of Rs 73.21 per capita, per month, meaning about Rs 879 ( about Taka 1,108) a year for a remote marginal class people means significant savings. About US$ 17,230 worth of tomato can be exported every month, which is about US$ 200,000 a year.
Bangladesh has surplus tomato production. It produced 13,60, 205 metric ton (MT) tomato in the year 2015-16. Local consumption is about 400,000-500,000 MT. A rough estimate shows a surplus of about 400,000-500,000 MT can be exported if the regulatory issues, testing and other sanitary and phytosanitory criteria can be put in order.
Contrarily, statistics of India show that it exported fresh tomato worth US$ 5, 280 to Bangladesh in the year 2016 while its global export was US$ 76,080. Export from India to Bangladesh was the highest in the year 2011 at US$ 8,251, when its overall export was US$ 86,076, according to the statistics of Trade Map, ITC.
Bangladesh exports tomato/processed tomato to the EU, the USA, the Middle East etc. but not to India. The think-tank observed that environment and other weather-related issues are almost the same in the two border areas. Some fumigation tests and other simple tests can be a prerequisite for export of tomato to Indian NEI states, especially Tripura.
Bangladesh imports tomato seeds and other tomato-related products regularly from India through Benapole and Chittagong ports. The think-tank also put emphasis on the quality of seed to take care of production. Tomatoes produced from imported seeds from India can easily be exported to these NEIs. Also, there is every possibility of increasing export of tomato-based processed products to India also.
Policies in Bangladesh and India need to be aligned. Mandatory list of Bangladesh Standards and Testing Institution (BSTI) includes tomato paste and tomato ketchup, so does the list of Import Policy Order 2015-18. On the other hand, a recent notification of Food and Safety Standard Authority of India (FSSAI), on April 3, 2017 accepted BSTI certification for importing 21 products to India. In this list, tomato ketchup and tomato paste are also included. Thus Bangladesh surely has opportunities to export tomato and related products to India.
For export of tomato from Bangladesh to India, there is a need for initiatives to have access to that market. The Plant Quarantine (PQ) Order (Regulations of Import into India) 2003 has to be amended in order to suitably incorporate notifications, indicating Bangladesh as a country from where vegetables can be imported with appropriate quarantine measures applicable. The PQ Order needs to be revised for acceptance of Bangladesh as an exporter. But exporters of the country need to approach and then the concerned government organisation can deal with this issue.
Imports in India are controlled by the Food Safety & Standard Authority of India (FSSAI). As Bangladesh is concerned about export from the country, it needs to take care of the regulatory approach through the FSSAI. Tomato as an agricultural product would need to go through the processes similar to other agro and agro-processed products. Regulatory approaches are considered mandatory while standardisation approach is voluntary to look after the issue of conformity assessment.