BIMSTEC Seeks Stronger Ties and Cooperation
12 August 2017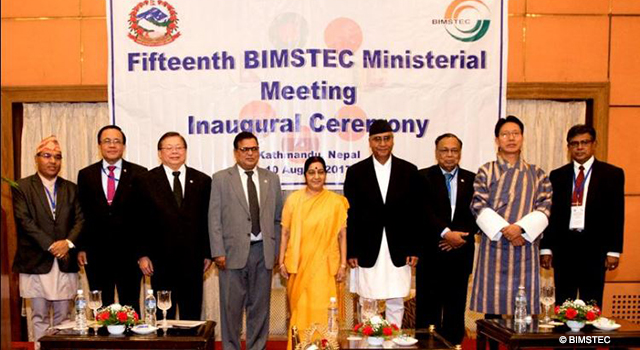 The 18th session of the Bay of Bengal Initiative for Multi-Sectoral Technical and Economic Cooperation (BIMSTEC) Senior Officials' Meeting and the 15th BIMSTEC Ministerial Meeting held in Kathmandu, Nepal, stressed the importance of cooperation in energy, technology, trade, and transport, through a revitalized, more integrated, and stronger BIMSTEC process.
The Joint Statement issued at the Ministerial Meeting underscored the urgent need to finalize the BIMSTEC Free Trade Area Agreement at the soonest possible time. The Meetings agreed to sign the memorandum of understanding for the establishment of a grid connection, expedite comments and observations on the BIMSTEC Framework Agreement on Transit, Transshipment and Movement of Vehicular Traffic and the BIMSTEC Coastal Shipping Agreement, and conclude the memorandum of association to establish a technology transfer facility.
Mr. Shahidul Islam, Bangladesh Ambassador to France, has been appointed as new Secretary General of BIMSTEC.
Related Links: