India Minister of State for Commerce and Industry: India and ASEAN Must Step-up Efforts to Increase Trade
4 August 2017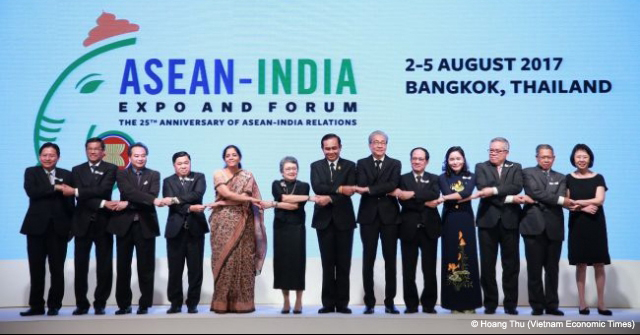 Ms. Nirmala Sitharaman, Minister of State for Commerce and Industry, India, urged India and member countries of the Association of Southeast Asian Nations (ASEAN) to bolster efforts to increase bilateral trade and investment, and improve road and sea transport links.
Speaking at the ASEAN-India Expo and Forum 2017, she remarked that "we have a long way to go to realize the full potential of trade and investment engagements." She urged a review of the ASEAN-India Trade in Goods Agreement to facilitate elimination of technical barriers to trade, and sought seamless movement of goods and services by transforming the India-Southeast Asia transport corridors into economic corridors. She highlighted progress in infrastructure connectivity between India and ASEAN, including the India-Myanmar-Thailand (IMT) Trilateral Highway and the Kaladan Multimodal Project. The IMT Motor Vehicle Agreement is currently being negotiated.
10.85% of India's total global trade is with the ASEAN region, increasing from $39.09 billion in 2007-2008 to $71.69 billion in 2016-2017.
Related Link: