Commentary: Improving Regulatory Standards for Export Diversification
30 June 2017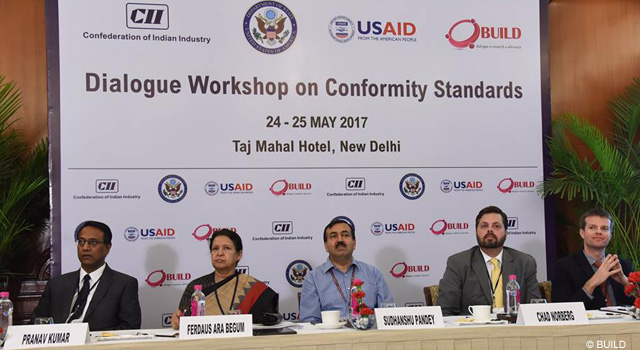 Products for export need to conform to given standards and undergo certain procedures before they are allowed entry into the importing country. In this commentary, Ms. Ferdaus Ara Begum, Chief Executive Officer, Business Initiative Leading Development, explains what exporters from Bangladesh need to do to understand these standards so they can expand their reach in India and other markets.
This commentary first appeared on the Financial Express website.
Improving Regulatory Standards for Export Diversification
By Ferdaus Ara Begum
While Bangladesh economy is doing well in terms of gross domestic product (GDP) growth, per capita income and poverty alleviation, export diversification still remains to be a grey area. Products from the country are exported to some developed countries where average tariffs are as low as 1.0-2.0% but the average equivalent implication of technical regulations is about 11%. Bangladesh's export suffers on regulation counts.
First, technical regulations are mandatory standards set by governments but there are Conformity Assessment (CA) standards which get the priority. CA refers to control, inspection and approval procedures maintained by an importing country before approval of entry of a product into that country. The aim is to safeguard the health and safety of consumers at home.
Technical requirements define a product's characteristics, specifications of a set of a product or production process while testing is the determination of one or more of an object or product's characteristics performed by a laboratory. Certification is the provision of a written assurance given by an independent body while inspection describes regular checking of a product to make sure it meets specified criteria.
In order to meet the requirements of the above a country sets its standards infrastructure. Also, there are some procedural obstacles that can work as an impediment to exports. An exporter has to be aware of all these issues before preparing for exporting a product to a foreign market. Often there remain huge information and knowledge gaps with government organisations, private sector stakeholders, laboratories, inspecting and accreditation agencies and other related organisations and institutions.
Against this backdrop, Business Initiatives Leading Development (BUILD), in association with Confederation of Indian Industry (CII) and the United States Agency for International Development, organized a workshop on conformity standards in New Delhi on 24-25 May 2017. The primary objective of this workshop was to sensitise Bangladeshi private sector entrepreneurs and relevant government officials about various standards and technical requirements, such as sanitary and phytosanitary measures (SPS), Technical Barriers to Trade (TBT) applied by India to goods imported from Bangladesh. Compliance with these requirements is necessary if Bangladeshi exporters want to expand their space in the Indian and other markets.
The workshop focused on six large sectors facing standard-related challenges -- textiles, jute and jute products, plastics, leather and agro and agro-processing products, fisheries and marine. About 70 private and public-sector participants of India and Bangladesh, including policymakers, researchers, professionals and private business entrepreneurs, put forward their opinions on how to solve the operational and understanding gaps between these two countries.
Many participants in the workshop argued that the perceived view that Bangladeshi products are discriminated against in terms of testing and conformity standards in India needs documentary evidence. The event was facilitated by trainers who have expertise in conformity assessment/standards. Participants deliberated on how Bangladeshi exporters can comply with the Indian standards regime. They have identified some specific areas where they can continue to work together to address standards issues. Some of the areas are: labelling for non-food sectors, nature of voluntary standards and mandatory standards and how to deal with issues like counterfeit manufacturing items and enforcement of laws in that respect, sample import, foreign manufacturing certificate, harmonisation with Codex standards in the food sector exports, capacities of laboratories maintained by different ministries, discussion with Food and Safety Authority of India (FSSAI) and collaboration with Food Safety authority of Bangladesh for Equivalence in regard to food safety, organic food standards, etc. An appropriate action plan with time-bound implementation deadline is one of the answers.
The workshop was the result of a series of consultations between India and Bangladesh on trade gaps. India can play a role as a future standards setter, especially in South Asia in matters of greater investment and trade. The partnership between two countries can also establish a platform of mutual understanding on the conformity assessment, standards and regional growth.
The workshop stressed the importance of trust building between the two countries, which relies on fair play of trade. The aim of the workshop was to identify ways to reduce the barriers to trade.
The whole standards and regulation regime is an interdepartmental, interministerial administration-controlled process that needs to adhere to the International Standards Organization, International Electrotechnical Commission, and World Trade Organization agreements and guidelines. In Bangladesh, the Ministry of Industries and its departments are supposed to play the prime role in maintaining standards for non-food items. There is a serious need for developing a coordination mechanism among other ministries dealing with non-food items.
These are the Ministry of Jute and Textiles and similar other ministries dealing with these items. The Ministry of Agriculture, the fisheries, Ministry of Food, Ministry of Health, Ministry of Science and Technology, and the Ministry of Commerce and its relevant departments would need to have a good coordination to deal with development of quality standards infrastructure for food items. The Food Safety Authority has formed a national Committee through which some sort of coordination with the ministries and organisations to work in the food sector have been established. On establishing a full-fledged quality infrastructure in the country, it should start working to maintain liaison with the international quality organisations and forums to identify the gaps for update.
The Bangladesh Standards and Testing Institute (BSTI) should maintain its full contact with its Indian counterpart, the Bureau of Indian Standards (BIS). The Bureau of Indian Standards Act of 1986 has been recently replaced by BIS Act 2016, seeking to broaden its ambit, and allow the central government to make it mandatory for certain notified goods, articles and processes to carry the standards mark. The BSTI should have all the updated information posted with Bangladeshi entrepreneurs. The BIS also operates a Foreign Manufacturers Certification Scheme (FMCS) since 2000. Under this scheme, a licence is granted for the use of a standards mark which indicates that a product is compliant with Indian standards.
The Food Safety and Standards Authority of India (FSSAI), under the ministry of health, looks after food safety regulations based on scientific evidence and risk assessment. Bangladesh Food Safety Authority, established only recently under the Ministry of Agriculture needs to maintain a close collaboration with FSSAI in order to keep itself abreast with changes in standards.
India has also issued its latest amendment in its Plant Quarantine Order 2003 and amended it in 2016. The plant quarantine order stipulates that no plants and products and other regulated articles shall be imported into India without complying with phytosanitary conditions. Bangladeshi plant quarantine wing under the Ministry of Agriculture would need to maintain contact with the FSSAI in order to bring emerging issues to the notice of the business entrepreneurs concerned.
In order to reach new markets with diversified products, there is a need for understanding the quality of goods in demand, policy and standard infrastructure of the country concerned, public-private collaboration and public-public coordination.