ADB Forecasts Improved Growth for South Asia
13 July 2017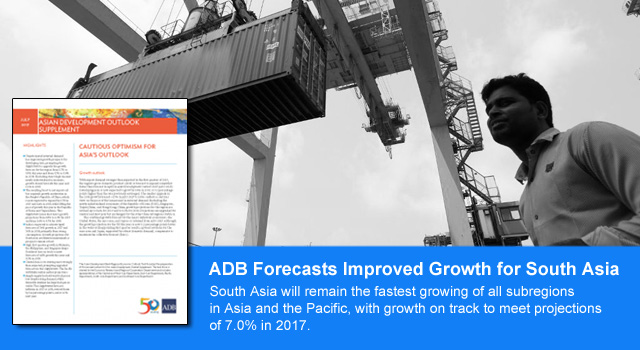 Economic growth prospects in developing Asia for 2017 have improved on the back of stronger-than-expected export demand in the first quarter of this year, according to Asian Development Bank (ADB) report, Asian Development Outlook (ADO) 2017 Supplement.
The report upgraded ADB's growth outlook for Asia from 5.7% to 5.9% in 2017, and from 5.7% to 5.8% for 2018.
South Asia will remain the fastest growing of all subregions in Asia and the Pacific, with growth on track to meet projections of 7.0% in 2017 and 7.2% in 2018. India is expected to achieve growth projections of 7.4% in 2017 and 7.6% in 2018, primarily from strong consumption.
Mr. Yasuyuki Sawada, Chief Economist, ADB, says developing Asia is off to a good start with improved exports pushing growth prospects, with the region's economies well-placed to face potential shocks to the outlook.
Related Link: