Regional Cooperation in a Highly Interconnected World
22 April 2014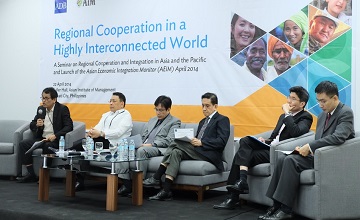 The Asian Economic Integration Monitor (AEIM), a semiannual review of regional economic cooperation and integration in Asia covers regional economic updates, intraregional trade, financial integration and investment, and the importance of disaster risk financing instruments. The Theme Chapter: Insuring Against Asia's Natural Catastrophes discusses market solutions and the role of government in developing disaster risk financing and strengthening financial resilience.
The economic update section encourages strengthening regional cooperation in surveillance and financial safety nets, and deepening economic links. Inter-subregional trade between each subregion and the rest of Asia is rising, except in South Asia, while financial integration continues to deepen across the region.
The review states that the Asia Pacific region needs to improve its insurance and other forms of disaster risk financing: it is vulnerable to risk hazards with financial costs totaling about $53 billion annually over the last 20 years. According to Iwan J. Azis, Head of ADB's Office of Regional Economic Integration, Asia needs stronger cooperation to counter geopolitical risks with regional trade and financial integration increasing over the past decade. The publication of the AEIM April 2014 was launched with a seminar on Regional Cooperation and Integration in Asia and the Pacific at the Asian Institute of Management, Makati City, Philippines on 22 April 2014.
Related Links:
News Release
Publication Launch and Photos
Video