Commentary: South Asian Countries Building Connections
24 June 2017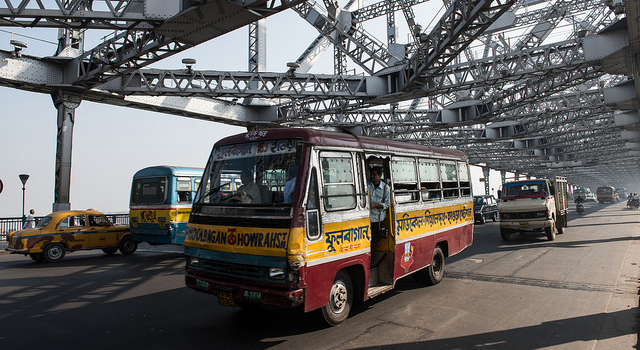 Mr. Prabir De, Professor at the Research and Information System for Developing Countries, discusses how the Bangladesh-Bhutan-India-Nepal (BBIN) subregional grouping's focus to bridge connectivity gaps is crucial to reducing poverty in the region. He highlights the pressing need to begin implementing comprehensive trade facilitation and connectivity measures in the BBIN subregion, and remarks how success of the BBIN initiative is important to move broader regional integration initiatives forward through SAARC and BIMSTEC.
This post first appeared on the East Asia Forum website.
South Asian Countries Building Connections
By Mr. Prabir De
The Bangladesh, Bhutan, India and Nepal (BBIN) sub-regional grouping has realised that narrowing connectivity gaps is a must for facilitating regional trade. Improved connectivity, which the South Asian Association for Regional Cooperation (SAARC) is only making slow progress on, is essential to providing cheaper access to goods and services, creating more jobs and ultimately helping to alleviate poverty at a faster rate.
The BBIN initiative, as such, has emphasised building connectivity from its beginning. Its vision involves increasing trade and cooperation within eastern South Asia, ensuring faster movements of goods and people, building sustainable development through water resource management and striving for climate protection.
BBIN countries have relatively open economies and, with the exception of Nepal, trade openness has been consistently rising for two decades. This trend has been influenced by recent growth in the Indian economy and its unilateral removal of tariffs and sensitive list items for the least developed countries in recent years. Since a large part of BBIN's trade is India-centric, any improvements in connectivity and trade facilitation with India should improve the overall competitiveness of BBIN and provide better market access to the Indian Market for Bangladesh, Bhutan and Nepal.
But the reality is that BBIN countries are yet to connect with each other through a comprehensive trade facilitation and connectivity measure due to a number of logistical handicaps. One of the most severe barriers is that trade in the region involves a high number of procedures and documents in all three BBIN corridors, requires multiple and complex obligations and compliances to product standards, and countries have yet to align customs procedures and recognise each other's services. To meet global, regional and sub-regional obligations, BBIN countries need enhanced trade facilitation measures.
The Motor Vehicles Agreement (MVA), signed by all four countries in June 2015 to regulate passenger, personal and cargo vehicular traffic, is making some progress on this front. India, Nepal and Bangladesh have ratified the agreement, with only Bhutan indicating that it is not yet ready. Bangladesh, India and Nepal have as such agreed to complete the formalities required to implement the MVA. In the meantime, demonstration runs of passenger and cargo services have been organised.
Investments in hard infrastructure such as roads, bridges and border facilities must also be scaled up, particularly in Bangladesh. The MVA has identified 30 transport connectivity projects into which US$8 billion will be channelled, and their implementation in priority sectors should be done expeditiously.
One advantage BBIN has is that by starting late, it has learned from the mistakes of other regional integration initiatives. In the face of slow movements in trade facilitation, rather than focusing on the trade and investment agreements, issues such as connectivity, water resources management and energy have received increased attention.
BBIN's outcomes are driven by regular meetings of joint working groups (JWGs), which include Water Resources Management and Power/Hydropower and Connectivity and Transit. To date, three meetings of JWGs have been held and the fourth JWGs meeting is expected to be held in the second half of 2017.
At the 3rd JWG meeting, parties agreed to commence discussion on a potential BBIN Rail Agreement drawing on the draft SAARC Regional Rail Agreement template. It was also agreed that all four countries would give priority attention to land ports/land customs stations crucial for sub-regional trade and transit.
But the costs of non-cooperation still threaten to damage the effort. Greater involvement from states or sub-national entities could produce an irresistible inclusive trade–transport arrangement, perhaps the most unique in the world. Greater political will is one of the most important tools for steering BBIN in the right direction. As a subset of SAARC as well as the Bay of Bengal Initiative for Multi-Sectoral Technical and Economic Cooperation (BIMSTEC), its multi-dimensional presence is crucial for the success of broader regional integration.