Forum Emphasizes Importance of Cooperation in Regional Initiatives
27 June 2017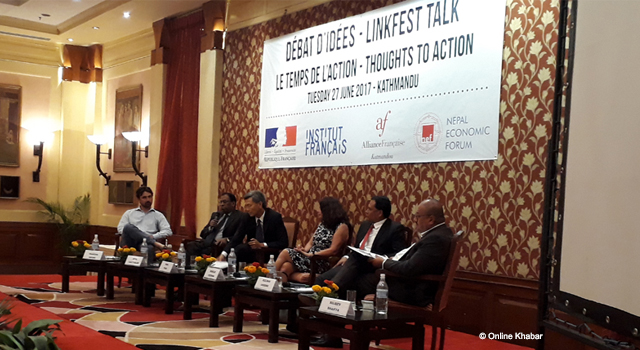 The forum "Linkfest Talk on Economic Development in Landlocked Countries Part 2" organized by the French Embassy, Alliance Française de Katmandu, and Nepal Economic Forum held in Kathmandu, Nepal explored actions that will allow landlocked countries, including Nepal, to take advantage of being "land-linked". The panelists, representing different institutions, emphasized the importance of improving connectivity in the region to boost economic growth.
Mr. Bipul Chatterjee, Executive Director, CUTS International and CUTS Centre for International Trade, Economics, and Environment (India), gave updates about the Bangladesh-Bhutan-India-Nepal initiative, and underscored the importance of cooperation among the four countries to be able to move forward. He stressed that "consultation, consensus, and collaboration" are keys to making any initiative work, and suggested looking to the Greater Mekong Subregion (GMS), an Asian Development Bank subregional initiative in Southeast Asia, as a model for subregional cooperation in South Asia.
Other panelists included Mr. Francois Driard, Chief Executive Officer, Himalayan French Cheese, Nepal; Mr. Kulman Ghising, Managing Director, Nepal Electricity Authority; Mr. Minh Pham, former United Nations resident coordinator; and Ms. Rensje Teerink, Ambassador to Nepal, European Union. Mr. Sujeev Shakya, Chairperson, Nepal Economic Forum, moderated the discussion.
Mr. Pham emphasized the need for Nepal to leverage on its geographically strategic location between India and China, develop economic and political diplomacy, and focus on infrastructure diplomacy.
Mr. Francois Driard, sharing his experience as an entrepreneur, stressed the need to expand the Nepalese market and simplify the export process to reach international standards. The current export process presents a major hurdle to Nepalese entrepreneurs, according to Mr. Driard.
Attendees included members of the diplomatic corps, senior officers from the Government of Nepal, researchers, students, and the media.
Related Links: