India, Bangladesh to Gradually Remove NTBs
24 May 2017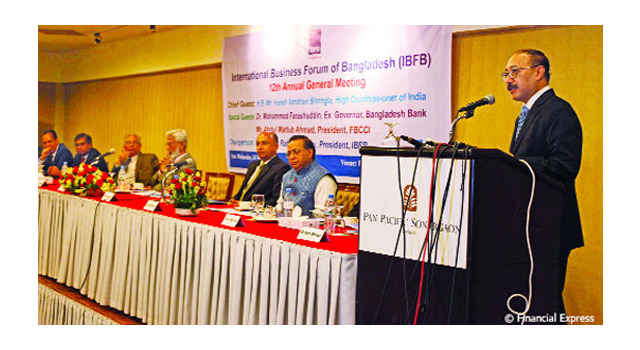 The International Business Forum of Bangladesh (IBFB) held its 12th Annual Conference on 24 May 2017. The opening session discussed restriction of India-bound exports from Bangladesh with Chief Guest, Mr. Harsh Vardan Shringla, India's High Commissioner to Bangladesh. Mr. Shringla underscored 21 products with duty free access to India, and reiterated India's commitment to remove non-tariff barriers (NTBs) through the standard-setting bodies of the two countries.
According to Mr. Shringla, the Bureau of Indian Standards and the Bangladesh Standards and Testing Institution have begun cooperating on certification of goods, gradually resolving the issue of NTBs.
Mr. Hafizur Rahman Khan, President, IBFB, highlighted the need for effective measures to minimize the trade deficit and remove NTBs to take the relationship between the two countries to the next level.
Mr. Abdul Matlub Ahmad, former Federation of Bangladesh Chambers of Commerce and Industry president, lauded continuing Indian investment to Bangladesh, which brings in more production work to the country, to manufacture export goods bound for India and other destinations. He urged India to identify and work on specific barriers to trade to improve relations.
The Indian High Commissioner also promoted strengthening connectivity through road, rail, power, and digital cooperation, and possible cooperation between Bangladesh and India on Bay of Bengal sea resources. Mr. Shringla noted that opening greater linkages multiplies opportunities in the two South Asian nations.

Related Links: