Regional Cooperation Initiatives to Bolster Greater Male Region Development
24 May 2017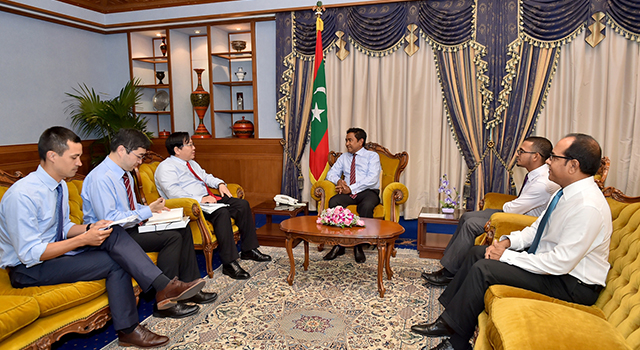 Mr. Wencai Zhang, Vice President, Asian Development Bank (ADB), encouraged the active participation of Maldives in regional cooperation programs, in his two-day visit to Male, Maldives, on 23-24 May 2017.
He called to further boost partnership in the coming years between Maldives and ADB, meeting with Maldives President Abdulla Yameen Abdul Gayoom, Maldives Vice President Abdulla Jihad and Mr. Ahmed Munawar, Minister, Ministry of Finance and Treasury.
Mr. Zhang shared ADB's plans to increase support for Maldives in 2018-2019 with its indicative investment program that focuses on developing the Greater Male region. This will comprise two projects—the SASEC National Window Project, and the Greater Male Environmental Improvement and Waste Management Project.
According to Mr. Zhang, "Regional cooperation can help Maldives develop its full potential by improving its connectivity with neighboring countries, facilitating trade, and further fostering tourism development. ADB will support Maldives to establish National Single Window."
Maldives became a full member of the SASEC Program in May 2014, following several years as an active Observer. An enabling environment for trade and doing business, and reliable and sustainable energy services, will take the country to the next level of growth.

Related Link: