ADB Awards SASEC Rail Project among Best Performing Projects in Bangladesh
22 May 2017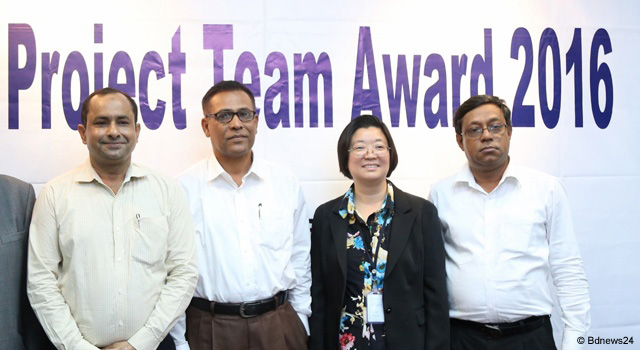 The South Asia Subregional Economic Cooperation (SASEC) Railway Connectivity Akhaura-Laksam Double Track Project, implemented by Bangladesh Railway, was awarded by the Asian Development Bank (ADB) as one of its best performing projects in Bangladesh.
The SASEC project, with $505 million in ADB financing, is helping upgrade the 72-kilometer Akhaura–Laksam section of the Dhaka-Chittagong railway corridor to a double track dual-gauge rail line. Modern signaling equipment is also being installed as part of the project.
The project aims to reduce transport costs, improve logistics along strategic corridors for domestic and sub-regional trade by developing the Dhaka-Chittagong link, and enhance inclusiveness of railway services by building facilities for the elderly, women, children, and the disabled.
The awards ceremony was held on 21 May in Dhaka, Bangladesh. The two other awardees were the Participatory Small-Scale Water Resources Sector Project, implemented by the Local Government Engineering Department, and the Power System Efficiency Improvement Project, Part A-Construction of Ashuganj 450 Megawatt Power Plant, implemented by Ashuganj Power Station Company Ltd.
"The project teams were selected for results delivery, efficiency, effective project implementation, efforts to empower women, transparency, and other criteria," said Ms. Cai Li, ADB Deputy Country Director. ADB established the annual best project team recognition program in 2001 to promote effectiveness of ADB-assisted projects in Bangladesh.

Related Link: