Connectivity Needed for BIMSTEC to Succeed
11 April 2017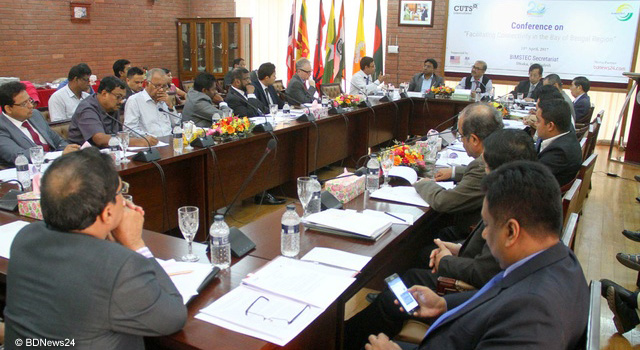 Experts gathered for the Conference on Facilitating Connectivity in Bay of Bengal Region on 11 April 2017 in Dhaka, Bangladesh, to discuss how to drive economic growth among Bay of Bengal Initiative for Multi-Sectoral Technical and Economic Cooperation (BIMSTEC) member countries. The conference was organized by think tank Consumer Unity and Trust Society (CUTS) and the BIMSTEC secretariat.
"There was great trade in this region and there is no reason why that cannot happen again," said Mr. Sumith Nakandala, Secretary General, BIMSTEC. He noted that the Bay of Bengal region was "historically well connected."
BIMSTEC member countries are Bangladesh, Bhutan, India, Nepal Sri Lanka, Myanmar, and Thailand. The organization connects South Asia and Southeast Asia and serves as a platform for inter-regional cooperation between South Asian Association for Regional Cooperation and Association of Southeast Asian Nations members.

The BIMSTEC region hosts 21% of the world's population and is seen to hold huge potential for trade. Mr. Bipul Chatterjee, Executive Director, CUTS, said national development plans to develop connectivity should be "in sync with larger plans for regional connectivity."
Various experts at the conference weighed in on the importance of connectivity to development in BIMSTEC. Mr. Takayuki Kawakimi, First Secretary, Japanese Embassy in Dhaka, noted that the Bay of Bengal Growth Belt is "very much relevant for BIMSTEC" growth.
Professor Selim Raihan, Department of Economics, University of Dhaka, called for the linking of the 100 economic zones Bangladesh plans to develop to attract investment that will both facilitate national economic growth and promote regional cooperation in the Bay of Bengal region, he said. Dr. Raihan stressed the need for greater investment to promote regional connectivity.

Related Links: