India, Sri Lanka Sign MoU for Cooperation in Economic Projects
29 April 2017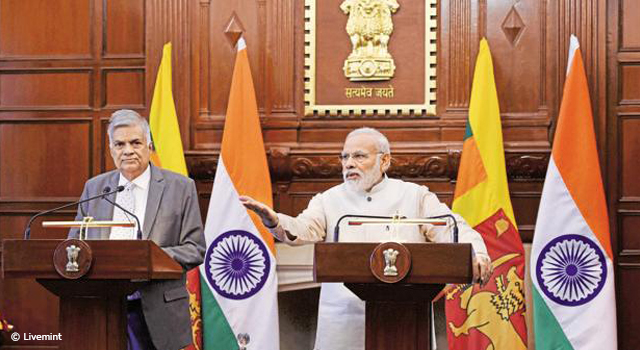 Sri Lanka Prime Minister Ranil Wickremesinghe visited India on 25-29 April 2017, for discussion with India Prime Minister Narendra Modi on a range of bilateral issues and matters of mutual interest.
The Government of India reiterated their commitment to promote prosperity in the region, and affirmed their continued support for the vision of a stable, peaceful and prosperous Sri Lanka.
Prime Minister Wickremesinghe emphasized Sri Lanka's interest in strengthening economic cooperation with India. His agenda included possible joint development of the eastern port town of Trincomalee.
Prime Minister Wickremesinghe and Prime Minister Modi welcomed the signing of the Memorandum of Understanding (MoU) for Cooperation in Economic Projects, which outlines the agenda for bilateral economic cooperation, and will allow India to work on infrastructure projects in Sri Lanka. They also expressed hope for early conclusion of ongoing negotiations on the Economic and Technology Cooperation Agreement.
Ms. Sushma Swaraj, External Affairs Minister, India, Mr. Nitin Gadkari, Transport Minister, India, and Mr. Rajnath Singh, Home Minister, India, also called on the visiting Sri Lankan Prime Minister.

Related Links: