India Finance Minister Welcomes Myanmar as new SASEC Member
3 April 2017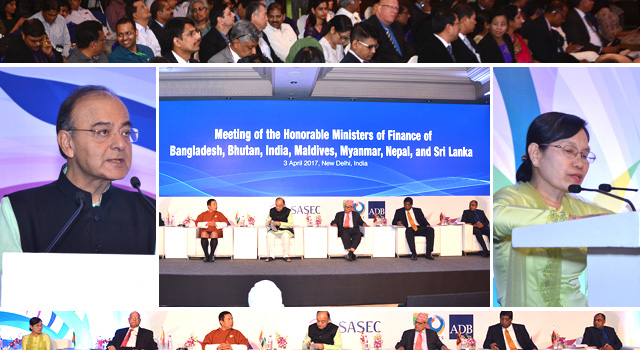 Mr. Arun Jaitley, Finance Minister, India, welcomed Myanmar as the newest member of the South Asia Subregional Economic Cooperation (SASEC) partnership.
"Now comprising seven members, we welcome Myanmar as the newest member, to play a key role in linking South Asia with Southeast and East Asia," said Mr. Jaitley at the SASEC Finance Ministers' meeting, held on 3 April 2017 in Delhi, India.
"The collective vision is to sustain sub-regional growth through enhanced cooperation. Improved connectivity, infrastructure development would help all," he said. He added that transport, trade facilitation, and energy security will empower Asia in the 21st century and help bring about sustainable growth.
Myanmar will play a key role in expanding connectivity and economic cooperation between South Asia and Southeast Asia, said Mr. Shaktikanta Das, Secretary, Department of Economic Affairs, Ministry of Finance of India. Ports and road corridors in Myanmar are vital links in SASEC's multi-modal connectivity initiatives.
"Development of multi-modal connectivity between North Eastern region of India, Bangladesh and Myanmar has the potential of unleashing tremendous economic energy in the sub-region," said a statement from the Ministry of Finance of India. "SASEC's energy connectivity and energy trade prospects will be enhanced with the inclusion of Myanmar, involving its substantial resources of hydropower and natural gas. Moreover, developmental impacts of economic corridor in the SASEC sub-region will be maximised by exploring potential synergies with corridors in Myanmar that are linked to those in other Southeast Asian countries."
Mr. Jaitley was joined by ministers and representatives from Bangladesh, Bhutan, Maldives, Myanmar, Nepal, and Sri Lanka at the Finance Ministers' Meeting to launch the SASEC Vision 2017-25, a strategic road map that sets the path to collective growth through regional collaboration.
Myanmar was accorded Observer status in SASEC in 2013 at the Asian Development Bank annual meeting held in New Delhi, India. The country informed the SASEC Secretariat of its desire to formally join the partnership as a full member on 21 February 2017. Its participation is expected to further promote and accelerate regional cooperation between South Asia and Southeast Asia in line with the objectives of the SASEC long-term strategic plan.
Related Links: