$125 Million to Upgrade Roads in India's Northeastern Region
14 February 2014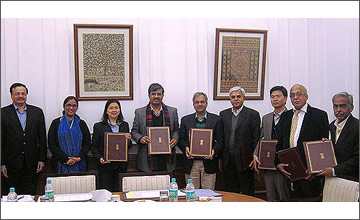 On 17 February 2014, the Government of India and the Asian Development Bank (ADB) signed a $125 million loan for the second tranche of the ADB-financed North Eastern States Road Investment Program, approved in 2013. Reconstruction and rehabilitation of more than 236 kilometers (km) of state roads in Assam, Manipur, Mizoram, and Tripura will contribute to increased transport efficiency in the project area, as well as better mobility and accessibility in the wider North Eastern region of India. The second tranche adds to the 200 km of state roads already being improved under the first tranche of the Investment Program, approved in 2011.
Mr. Nilaya Mitash, Joint Secretary (Multilateral Institutions), Department of Economic Affairs at the Ministry of Finance signed the loan on behalf of the Government of India, noting that "better roads in the region will significantly improve the investment climate for the private sector, both domestic and foreign." Ms. Teresa Kho, Country Director of ADB's India Resident Mission, who signed on behalf of ADB, added that increased mobility and accessibility for many of the isolated communities in the project area will help open up new economic opportunities, boost growth, and reduce poverty.
In addition to ADB's loan of $125 million, the central and state governments of India have committed counterpart financing of $32 million.
The North Eastern States Roads Investment Program was developed in parallel with the Government of India's Special Accelerated Road Development Program in the North Eastern Region (SARDP-NE), which aims to provide better connectivity to the state capitals and district headquarters in the North Eastern region by developing two-lane national highways and improving state roads. ADB's Investment Program was designed to complement SARDP-NE, focusing on improvements to intrastate connectivity (mainly to district headquarters and other places of administrative and economic importance in the individual states) and enhancing the capacity of state Public Works Departments (PWDs) to manage their road assets.
The second tranche of the investment program is expected to be completed by March 2020.
Related Links