Bangladesh Wants to Be South Asia's Transport Hub
3 April 2017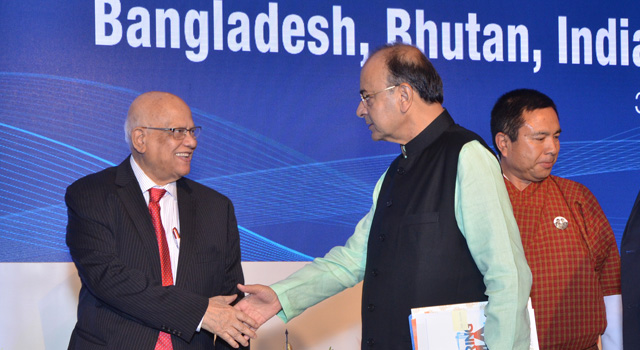 Bangladesh has the potential to become a transport hub for India, Bhutan, Nepal, Maldives, Sri Lanka, and Myamar, according to Mr. AMA Muhith, Finance Minister, Bangladesh. Turning Bangladesh into a regional and transshipment hub would result in collective economic growth for the countries, Mr. Muhith said at the Finance Ministers' Meeting of South Asia Subregional Economic Cooperation (SASEC) on 3 April 2017 in New Delhi, India.
Mr. Muhith noted that improving multi-modal connectivity would "lead to enhanced economic cooperation among the countries of the region." He cited SASEC projects to strengthen road, rail, and maritime connectivity along key trade routes to neighboring countries.
Bangladesh has expanded power-sharing arrangements with India as part of the SASEC platform, opening up further expansion possibilities with Bhutan and Nepal. It also intends to create a more enabling intra-subregional trade environment through. Plans for a National Trade Portal connected with the Bangladesh single window system are being finalized.
"I would like to reiterate here that the Bangladesh Government is committed to introduce necessary reforms in its legal and regulatory environment and its institutional procedures and practices to meet international standards," Mr. Muhith said.
The Finance Ministers' Meeting, hosted by India in collaboration with the Asian Development Bank (ADB), brought together finance ministers from seven SASEC member countries to launch SASEC: Powering Asia in the 21st Century. Mr. Muhith hailed the document, which defines the strategic objectives on South Asian transport, trade facilitation, energy, and economic corridor development.
Mr. Arun Jaitley, Finance Minister, India, presided over the meeting. Bangladesh High Commissioner to India Syed Muazzem Ali was also present.
Bangladesh is discussing two major corridors that will pass through Dhaka, the most economically advanced region of the country. These corridors are the Banglabandha-Dhaka-Chittagong-Cox Bazar route and the Sylhet-Dhaka-Khulna route.
SASEC aims to help create economic corridors in individual SASEC countries to maximize the development impacts of investments through cross-border links. SASEC countries have implemented 46 regional projects in the sectors of energy, transport, trade facilitation, information and communications technology, and economic corridor development.
Related Links: