Finance Ministers Chart Strategic Road Map with SASEC Vision 2025
3 April 2017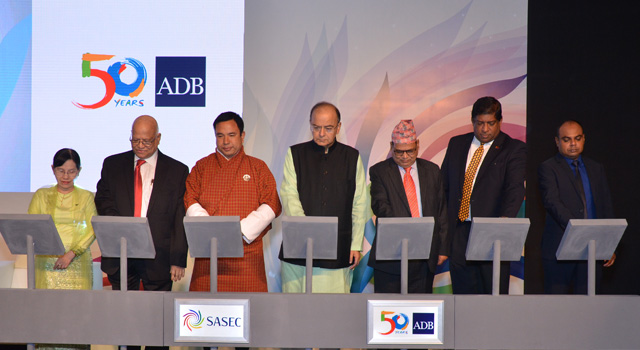 Finance ministers from South Asia Subregional Economic Cooperation (SASEC) member countries met in New Delhi, India, on 3 April 2017 to launch the SASEC Vision, a new strategic road map to guide the subregion's development through 2025.
The vision reflects the commitment of SASEC member countries Bangladesh, Bhutan, India, Maldives, Myanmar, Nepal, and Sri Lanka to tap industrial demand and promote industry-to-industry links. The vision serves as a guide to SASEC members in developing gateways and hubs to expand trade and commerce, which could help create jobs and accelerate growth in the region.
"To further align and focus our interventions, we adopted the SASEC Operational Plan 2016-25, which defines the strategic objectives and operational priorities in transport, trade facilitation and energy, as well as for economic corridor development," the finance ministers noted in their Joint Statement.
"Our investments in infrastructure will reach not only to trade gateways, but to the hinterlands to help improve people's access to economic opportunities, increase productivity and variety of the goods and services, and provide them with better access to social services," the statement added.
Regional Connectivity to Add 20 Million Jobs and $70 Billion to GDP by 2025
At the meeting, the finance ministers pledged to improve regional cooperation, which could help add $70 billion to their combined GDP and generate 20 million jobs by 2025. The ministers also identified the common aspiration of member nations to engage in sustainable and inclusive growth.
"Our collective vision is for SASEC to power Asia in the 21st century, sustaining growth that synergizes the growth of the natural resources of the subregion, industry and infrastructure potential through the enhanced cooperation," said Mr. Arun Jaitley, Finance Minister, India.
The SASEC Operation Plan 2016-2025 launched in November 2016 pinpoints transport, trade facilitation, energy, and the development of economic corridors as priority areas for development.
Through SASEC, member countries identify infrastructural projects that help connect economic centers and rural lands, and strengthen trade and tourism. Ongoing SASEC road connectivity projects in Nepal, Bhutan, India, and Bangladesh improve cross-border industrial, social and cultural flows. India and Nepal are working on a pilot project for electronic cargo tracking to ensure smooth transit of trade.
The SASEC partnership was founded in 2001, with India, Nepal, Bhutan and Bangladesh as member nations. SASEC has since has grown to include Sri Lanka, Maldives and Myanmar. The Asian Development Bank serves as the SASEC Secretariat.
Related Links: