Upgrade of Jaidevpur-Chandra-Tangail-Elenga Highway in Bangladesh Underway
11 February 2014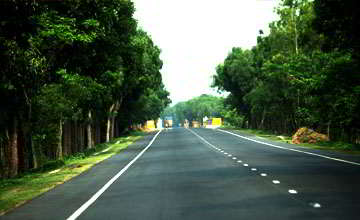 Aligned with South Asia Sub-regional Economic Cooperation (SASEC), the Government of Bangladesh will implement a Tk 27.88 billion ($358. 59 million) project to upgrade the Jaidevpur-Chandra-Tangail-Elenga highway which forms part of Asian Highway-2, Asian Hghway-41, and SAARC Highway Corridor-4 to facilitate road connectivity with neighboring countries. The project was approved by the Executive Committee of the National Economic Council (ECNEC) of Bangladesh in April 2013.
The project will
Upgrade the 70km highway from 2-lane to 4-lane;
Identify accident prone roads;
Construct 5 flyovers, 27 bridges, 60 culverts, separate lanes for slow-moving vehicles; and
Build the Roads and Highways Department (RHD) headquarters with 16,000 square feet floor space.
The Cabinet Purchase Committee will appoint a consultant for a contract value of Tk 1.04 billion ($13.38 million) to supervise the design and construction work of the project during implementation through 2013-2018. The Government of Bangladesh will finance Tk. 9.44 billion ($121.41 million) with the remaining Tk 18.43 billion ($237.04 million) from donors such as the Asian Development Bank (ADB), OPEC Fund for International Development (OFID), and Abu Dhabi Fund for Development (ADFD).
The Roads and Highways Department selected Korean firm Kunhwa Engineering and Consultant in a joint venture with Korea Consultants International and Technocrats Pvt Ltd (India), in association with Development Design Consultant Ltd (Bangladesh).
Related Links:
The Financial Express
UNB Connect