Bangladesh, Bhutan Commerce Secretaries Discuss Trade Promotion
24 March 2017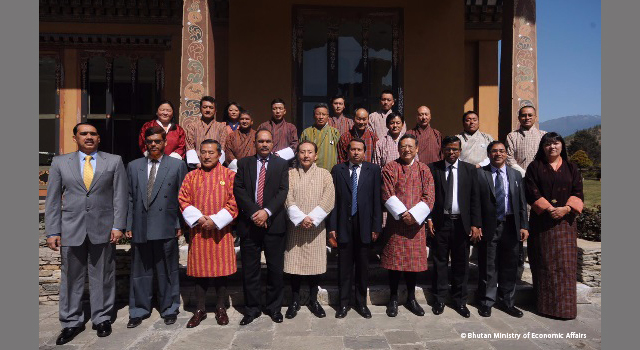 The Commerce Secretaries of the Government of Bhutan and the Government of Bangladesh met on 23-24 March 2017 in Thimphu, Bhutan, to discuss the promotion of trade and commerce.
The Secretaries of Bangladesh and Bhutan agreed to negotiate an inland water transit protocol, which will allow transit of goods through the Brahmaputra river up to the ports of Mongla and Chittagong in Bangladesh; and initiate a memorandum of understanding for mutual recognition of standards and classifications between Bhutan Standards Bureau and Bangladesh Standards and Testing Institution.
Mr. Shubhashish Bose, Secretary in Charge, Ministry of Commerce, Government of Bangladesh, and Mr. Yeshi Wangdi, Secretary, Ministry of Economic Affairs, Government of Bhutan, led the delegations.
Total trade between the two countries grew 10.56%, from $27.41 million in 2014 to $30.31 million in 2015, according to data from the International Monetary Fund. Bhutan's exports to Bangladesh—its second largest export destination—stood around $12.42 million in 2015, while Bangladesh's exports to Bhutan accounted for around $2.17 million.
Bangladesh exports to Bhutan include apparel, agri-products, and footwear. Bhutan exports to Bangladesh include vegetables, packed food, mineral products, products from chemical and allied industries, textiles and textile materials, base metals, machinery, mechanical appliances and electrical equipment.

Related Links: