BIMSTEC Roundtable Stresses Need to Resolve Border-Related Trade Barriers
7 March 2017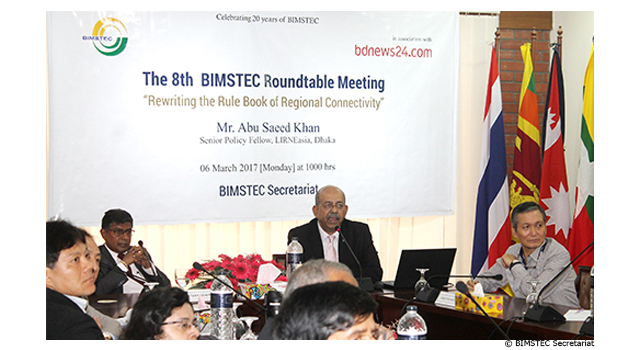 The Eighth Bay of Bengal Initiative for Multi-Sectoral Technical and Economic Cooperation (BIMSTEC) Roundtable Meeting, organized by the BIMSTEC Secretariat, in coordination with BdNews24, tackled "Rewriting the Rulebook of Regional Connectivity." Discussions emphasized the need to resolve border-related trade barriers through coordination of government policies across Asia, including Customs procedures and clearance of goods, to unlock the vibrancy of the Asian Highway and reduce the cost of doing business.
Mr. Abu Saeed Khan, LIRNEasia Senior Policy Fellow, cited how certain regulations and unacceptability of standards have raised the cost of doing business at Asian borders in the presentation of his keynote paper. He updated participants on plans to increase container and passenger movement among countries in Asia, and development of a new road in Manipur in India's Northeast region, connecting Bangladesh, India, and Myanmar.
He stressed how the private sector can change the scenario of connectivity: government reforms can meet up to 40 % of Asia's infrastructural deficiency, but the rest needs to be taken up by stakeholders in the private sector.
Mr. Khan suggested also that ICT connectivity can considerably reduce distance among the countries of the region, and he urged establishment of cross-border telecommunication connectivity using fiber optic networks along the Asian Highway and Trans-Asian Railway route to lower the expense of building an internet infrastructure.
Contributing to the discussion, Mr. Ninad S. Deshpande, First Secretary, Indian High Commission in Dhaka reported progress on the rail track connecting Kolkata-Agartala-Mizoram and Myanmar, from which both India and Bangladesh will benefit.
Roundtable participants included Mr. Sonam Tobden Rabgye, Bhutanese Ambassador to Bangladesh; Mr. Dhan Bahadur Oli, Nepal Embassy Chargé d'affaires; Ms. Yasoja Gunasekera, Sri Lankan High Commissioner in Dhaka; Mr. Benoit-Pierre Laramee, Canadian High Commissioner in Dhaka; Ms. Panpimon Suwannapongse, Thai Ambassador to Bangladesh; and Mr. Farooq Sobhan, Bangladesh Enterprise Institute President and Chief Executive Officer.

Related Links: