India Moves Ahead with Multi-Modal Transport Connectivity Plan
8 March 2017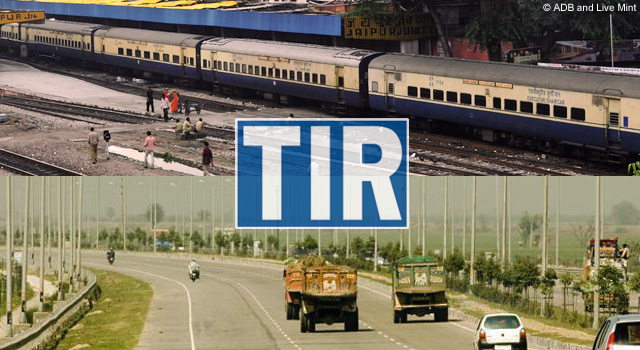 India's Union Cabinet approved the signing by the Government of India of the Transports Internationaux Routiers (TIR, or International Road Transport) Convention on 6 March 2017. The approval takes India forward in its bid to establish seamless trade connectivity with Southeast Asian and Eurasian countries and harmonize its transport systems with global standards.
India will be the 71st signatory of the multilateral international transit treaty, also called the Customs Convention on International Transport of Goods. The TIR Convention will help India move goods faster and at less cost along the International North-South Transport Corridor (INSTC), a multi-modal transport corridor established in 2000 by Iran, Russia, and India to promote transportation cooperation.
TIR's single transit document reduces the risk of presenting inaccurate information, and only approved transporters and vehicles are allowed to operate. The TIR Convention will also help India implement the World Trade Organization's Trade Facilitation Agreement, which came into force in February.
India has been promoting multi-modal transport involving railways, highways, and waterways. Mr. Arun Jaitley, Finance Minister, India, stressed in a speech in February the importance of developing an effective transport system in order to have a competitive economy.
India is also party to the Bangladesh, Bhutan, India, and Nepal Motor Vehicles Agreement and the India-Myanmar-Thailand Motor Vehicles Agreement, which simplify cross-border transport among the participating countries. It is also pushing to make operational the Trans-Asian Railway route in cooperation with Iran, Bangladesh, Pakistan, and Turkey.
Related Links: