WTO's Trade Facilitation Agreement Enters into Force
22 February 2017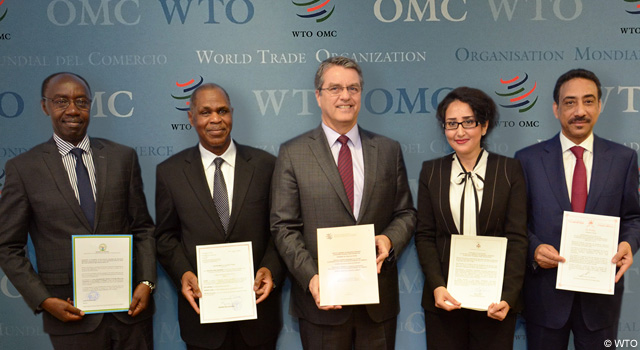 The World Trade Organization (WTO) Trade Facilitation Agreement (TFA) came into force, on 22 February 2017, after Rwanda, Oman, Chad, and Jordan submitted their instruments of acceptance to WTO Director-General Roberto Azevêdo. The submissions bring the total number of ratifications to 112, over the 110 required for activation, out of WTO's 164 members.
The TFA seeks to expedite the movement, release and clearance of goods across borders, and strengthens the multilateral trading system as a whole. It prescribes measures to improve transparency and predictability of trading across borders and to create a less discriminatory business environment.
Once the TFA is fully implemented, least developed countries (LDCs) are expected to see an increase of up to 35% in the number of new product exports. Members' trade costs are also forecast to lower by 14.3%, with developing countries having the most to gain, according to a 2015 study by WTO economists.
WTO ratification "would boost global trade by up to $1 trillion each year, with the biggest gains being felt in the poorest countries. The impact will be bigger than the elimination of all existing tariffs around the world," said Mr. Azevêdo
South Asia Subregional Economic Cooperation member countries Bangladesh, India, Myanmar, Nepal, and Sri Lanka are among the 112 countries that have accepted the TFA
Nepal became the 14th least developed country and the 108th WTO member to ratify the TFA when its Parliament ratified the TFA on 13 January.
A Trade Facilitation Agreement Facility (TFAF) was launched in 2014 at the request of LDCs and developing countries to help ensure that they receive the assistance needed to reap the full benefits of the TFA.
Related Link: