India, Nepal Bilateral Meeting Discusses Operational Modality of New Transmission Lines
15 February 2017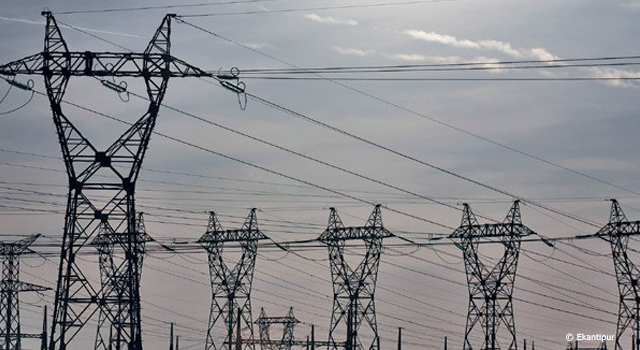 Joint steering committee and joint working group meetings of the Governments of India and Nepal discussed how to bring recently-completed transmission line projects—the Dhalkebar (Nepal)-Muzaffarpur (India) transmission line, Raxaul (India)-Parwanipur (Nepal) transmission line, and Kataiya (India)-Kushaha (Nepal) transmission line—into operation, on the implementation of the Power Trade Agreement. The Meeting was held on 13-14 February 2017 in Kathmandu, Nepal.
The Meeting concluded with agreements that will boost power supply through
Increasing to 220 kilovolt ampere (kVa) capacity the Dhalkebar-Muzaffarpur transmission line from 132 kVa upon completion of the Dhalkebar substation in May 2017, and bringing it to its full 400 kVa capacity by August 2019. Nepal will be able to import an additional 50 megawatts (MW) once the transmission line is ready for full use;
Beginning electricity import through the 132 kVa Raxaul-Parwanipur and Kataiya-Kushaha transmission lines from 25 February. These will bring 50 MW each to Nepal's Bara and Sunsari districts;
Finalizing the detailed project report of the proposed Butwal (Nepal)-Gorakhpur (India) cross-border transmission line prepared by the India-Nepal joint technical team, and forming another joint technical team to study its funding modality. The Butwal-Gorakhpur transmission line will serve as backup to the Muzaffarpur-Dhalkebar transmission line to secure power reliability and promote easier power distribution throughout Nepal.
The Meeting also discussed the new Dhalkebar, Butwal, and Hetauda 400 kV sub-stations in Nepal, and progress of the India-funded 900 MW Arun-III and Upper Karnali hydropower projects. Nepal committed to resolving construction issues of these hydropower projects in two months.
The Indian delegation reiterated their readiness to consider new lines of credit to help Nepal boost its energy infrastructure, as well as their willingness to build capacity of Nepalese engineers to operate and manage the transmission lines through special training courses to be delivered by the Power Grid Corporation of India.
The Nepalese delegation expressed gratitude toward efforts by the Government of India to increase Nepal's electricity supply to help the country overcome its energy shortage during winter. They also expressed interest in acquiring LED bulbs from India to enhance power efficiency and reduce costs. India has installed more than 210 million LED bulbs and plans to install 770 million LED bulbs in the coming years.
Related Links: