ADB Regional Cooperation Operations Business Plan (RCOBP) 2014-2016 for South Asia
17 January 2014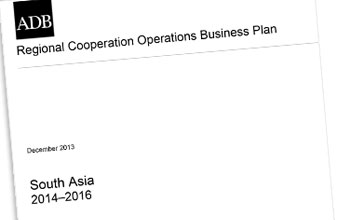 ADB's third Regional Cooperation Operations Business Plan (RCOBP) 2014-2016 for South Asia under its South Asia Regional Cooperation Strategy (RCS) 2011-2015 details a cumulative indicative lending program of $3.3 billion. The proposed regional operations 2014-2016 are consistent with RCS priorities and maintain focus on
Improving regional connectivity;
Increasing cross-border trade; and
Strengthening regional energy cooperation.
New projects are envisioned in the road, rail, air, trade facilitation, energy, and tourism sectors under this RCOBP. ADB's regional financing mechanisms support projects under the South Asia Subregional Economic Cooperation (SASEC) Program, as well as strengthening inter-subregional cooperation through support to the South Asia Association for Regional Cooperation (SAARC), and the Bay of Bengal Multi-Sectoral Technical and Economic Cooperation (BIMSTEC) Program.
Related Links