Davos 2017: Accelerating South Asia's Growth and Development through Regional Cooperation
17 January 2017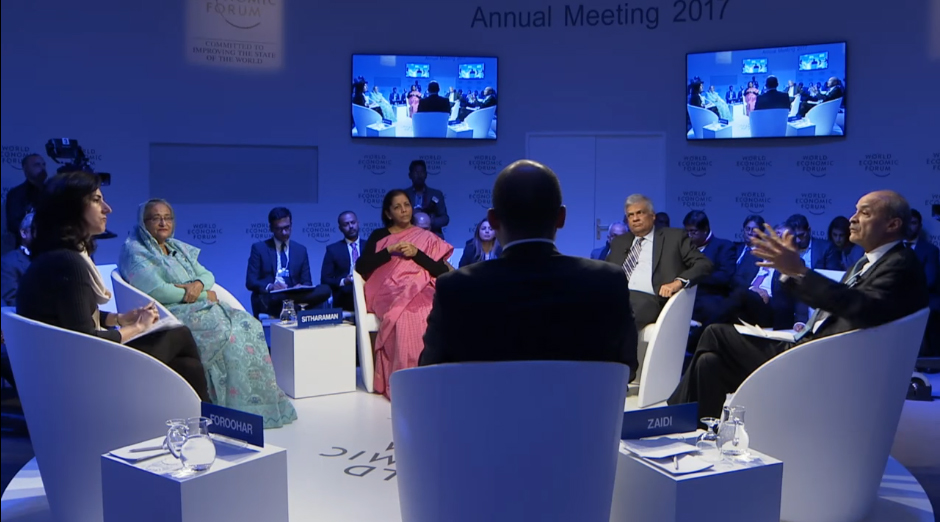 The interactive session "Harnessing Regional Cooperation in South Asia" held at the Annual Meeting of the World Economic Forum in Davos, Switzerland, on 17 January 2017 discussed how regional economic cooperation is helping accelerate the region's growth and development.
Calling poverty the region's common enemy, Bangladesh Prime Minister Sheikh Hasina remarked that countries in the region must work together to increase their business, trade, and cooperation to eradicate poverty.
Prime Minister Hasina highlighted the importance Bangladesh places on forming linkages with its neighbors. Bangladesh actively participates in the South Asian Association for Regional Cooperation (SAARC) and the Bay of Bengal Initiative for Multi-Sectoral Technical and Economic Cooperation (BIMSTEC), and the newly-formed Bangladesh-Bhutan-India-Nepal (BBIN) subregional grouping and the Bangladesh-China-India-Myanmar Economic Corridor, to increase business, trade, and cooperation.
She emphasized that economic cooperation has not stopped in South Asia, pointing to continuous initiatives, including the South Asia Free Trade Area (SAFTA) and the South Asia Subregional Economic Cooperation (SASEC).
India Minister of State for Commerce and Industry Nirmala Sitharaman noted that SAFTA has a central role when it comes to discussions on South Asian trade and economy. She shared that trade is being re-energized in the region, as evidenced by the rising volume in bilateral trade in South Asia, such as trade between India and Bangladesh, and India and Sri Lanka, and the trading activity generated through the border haats established by India and Bangladesh.
Sri Lanka Prime Minister Ranil Wickremsinghe added that Sri Lanka benefits from transshipment from India, and remarked on the thriving intra-regional relations between Sri Lanka and other South Asian countries.
Minister Sitharaman urged South Asian economies to harness their energies. With South Asia's strong growth, expanding purchasing capacity, and skilled working class, South Asia is going to be an engine of growth for global demand, presenting a huge opportunity for the region.
The panel also emphasized how initiatives to bolster connectivity are helping increase economic cooperation in the region. Minister Sitharaman lauded the development work being done in South Asia that led to road connectivity "being built and with great effort." Initiatives including the BBIN Motor Vehicle Agreement (MVA) and the India-Myanmar-Thailand Trilateral Highway are helping improve existing relationships among the countries, and forming links all the way to Southeast Asia, according to the Indian Commerce and Industry Minister.
Mr. Manvinder S. Banga, Operating Partner, Clayton, Dubilier & Rice LLP, noted that connectivity, including direct road connectivity, visa on arrival, people-to-people connectivity, will bring a huge advantage to trade in the region. He cited the example of the BBIN MVA – with its potential to facilitate movement across geographies, the BBIN MVA can open up supply chain opportunities in the region. Connectivity can fuel South Asian global value chains – enabling a factory in Assam to supply in Bangladesh or the other way around. Mr. Banga remarked that, eventually, all these bilateral, trilaterals, quadrilaterals trade agreements being formed will fill South Asia with trade activity.

Related Links: