APTA Member Countries Move to Boost Trade in the Region
13 January 2017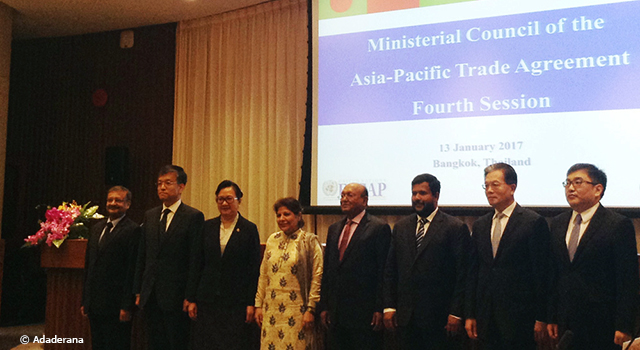 Bangladesh, China, India, Laos, South Korea, and Sri Lanka, member countries of the Asia-Pacific Trade Agreement (APTA), moved to expand trade and boost growth in the region by agreeing to increase the number of products under preferential tariff treatment, from 4,270 to 10,677 items, at the 4th session of the APTA Ministerial Council, held on 13 January 2017 in Bangkok, Thailand.
Dr. Shamshad Akhtar, Undersecretary General, United Nations (UN), and Executive Secretary, Economic and Social Commission for Asia and the Pacific (ESCAP), emphasized that APTA remains the only operational regional trade agreement linking China and India, two of the fastest growing markets of the world with a combined consumer base of over 2.6 billion people. She noted that trade is key to the success of the 2030 Agenda for Sustainable Development.
Bangladesh Commerce Minister Tofail Ahmed remarked that this development will further enhance mutual relations between the countries, as well as employment opportunities, and assist APTA members in achieving the Sustainable Development Goals.
Sri Lanka Minister of Industry and Commerce Rishad Bathiudeen lauded the move as a significant advancement toward broadening the APTA agenda from trade in goods to liberalization of services, investment and trade facilitation. He urged the early conclusion of negotiations on commitments to pave the way for further expansion of trade, investment, and economic integration.
APTA was signed in 1975 as an initiative of ESCAP. It aims to promote economic development through adoption of mutually beneficial trade liberalization measures that will contribute to intra-regional trade expansion and provides for economic integration through coverage of merchandise goods, services, investment and trade facilitation.
Related Links: