Nepal Submits Instrument of Acceptance for Trade Facilitation Agreement
24 January 2017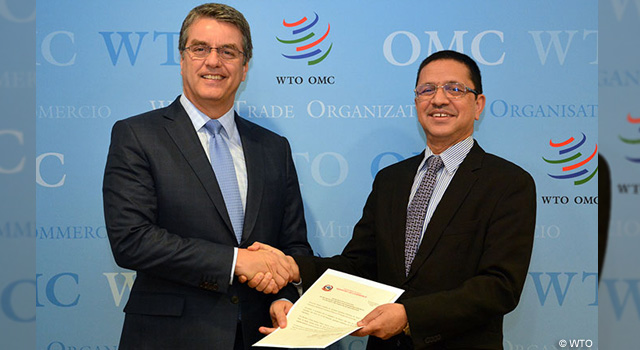 The World Trade Organization (WTO) Trade Facilitation Agreement (TFA) is getting closer to coming into force after Mr. Deepak Dhital, Nepal's Ambassador to the WTO, submitted his country's instrument of acceptance to WTO Director-General Roberto Azevêdo on 24 January 2017. Nepal's Parliament ratified the TFA on 13 January.
Nepal is the 14th least developed country (LDC) and the 108th WTO member to ratify the TFA. The TFA will enter into force once two-thirds of the WTO membership (110 members) has formally accepted the Agreement.
In South Asia, the TFA has also been accepted by Bangladesh, India, and Sri Lanka.
The TFA contains provisions for expediting the movement, release, and clearance of goods. It also describes measures for cooperation between Customs and other authorities on trade facilitation and Customs compliance issues.
Full implementation of the TFA is expected to reduce members' trade costs by an average of 14.3%, with developing countries having the most to gain, according to a 2015 study by WTO economists. The agreement has the ability to reduce the time to import and export goods and could increase global merchandise exports by up to $1 trillion.
The TFA broke new ground for LDCs in the way it will be implemented. For the first time in WTO history, the requirement to implement the Agreement was directly linked to the capacity of the country to do so. The TFA also states that developing countries and LDCs should receive assistance for them to gain the capacity to implement the Agreement.
Nepal was instrumental in the adoption of the Agreement during the WTO Ninth Ministerial Conference Meeting in December 2013 in Bali, Indonesia, as Convener representing least development countries (LDCs).
Related Link: