Conference Promotes Paperless Trade Implementation in Sri Lanka
3 November 2016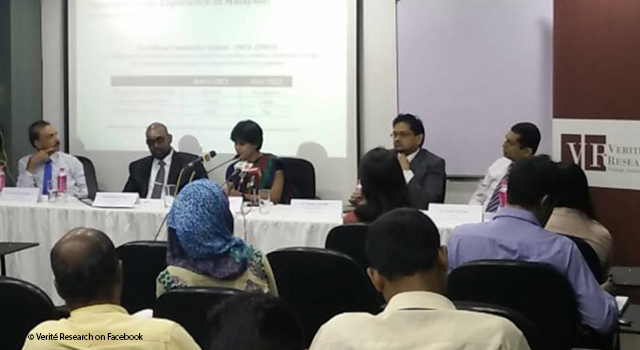 A conference held by the Sri Lanka Press Institute highlighted how enabling paperless trade will improve Sri Lanka's business competitiveness, and enable the country to achieve its ambition of becoming a regional logistics hub by enhancing its international trade processes.
Mr. Buddhika Perera, Research Manager, Verité Research, shared the significant benefits in adopting a paperless trading system:
faster document handling, saving precious time for all parties involved in import/export;
improved global competitiveness of Sri Lanka's exports and logistics;
reduced processing costs; and
better document tracking and predictability in processing.
According to Mr. Perera, policy makers in Sri Lanka should focus on trade facilitation, looking forward to a paperless era. Efficient trade transaction is needed for the country to improve its business engagements.
A study conducted by Verité Research found that delays in accepting electronic signatures by government agencies has hindered the country in fully realizing the benefits of paperless trade. In 2006, Sri Lanka passed the "Electronic Transactions Act, No. 19 of 2006," enabling acceptance of electronic signatures, electronic documents and electronic contracts in all but a few specific transactions. However, there was continued reluctance to accept electronic signatures among Government agencies.
According to Ms. Subhashini Abeysinghe, Head, Economic Research, Verité Research, this is holding up wider use of an electronic 'single-window' platform launched in May 2016 by Sri Lanka Customs and the Ministry of Finance, which was meant to speed up export-import documentation.
Mr. Dinesh De Silva, Chairman, Import Sector, Ceylon Chamber of Commerce, explained that paperless trade will improve Sri Lanka's trade ecosystem and help the country achieve the key economic policy objectives set by the Government, including:
fast-tracking exports;
promoting foreign direct investments;
connecting to global value chains by transforming Sri Lanka into a regional logistics hub; and
helping Sri Lanka implement a digital economy and electronic governance system similar to those in developed Asian countries.
Mr. De Silva urged the Government and private institutions to acknowledge e-documentation and e-signatures. He underscored how this one small step will result in a giant leap forward for Sri Lanka in terms of trade competitiveness.

Related Links: