Online Alert System for SPS/TBT Notifications Launched
8 November 2016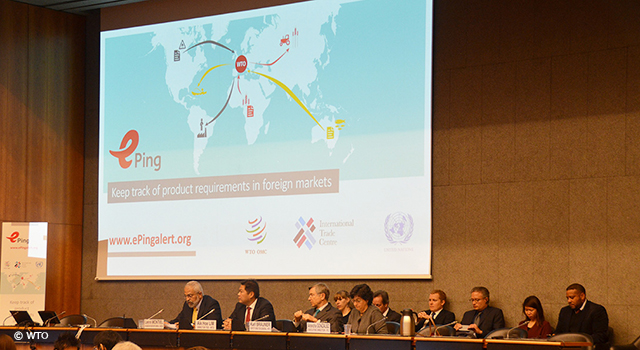 The United Nations Department of Economic and Social Affairs (UN DESA), the World Trade Organization (WTO), and the International Trade Centre (ITC) launched ePing, an online alert system for updates on the latest information on regulatory requirements for international trade, on 8 November 2016, at a special meeting of the Technical Barriers to Trade (TBT) Committee of the WTO.
ePing enables access to WTO member notifications of Technical Barriers to Trade (TBT) and Sanitary and Phytosanitary (SPS) measures, and facilitates dialogue among the public and private sector in the early stages of potential trade issues. Users of ePing, including government agencies and small and medium-sized enterprises (SMEs), will be able to keep track of SPS/TBT notifications affecting foreign markets and products of special interest to them.
According to Mr. Karl Brauner, WTO Deputy Director-General, accessing relevant information on product requirements in export markets for SMEs can be a huge challenge. ePing makes information on regulations and standards more accessible, increasing transparency in global trade and making it more inclusive.
Ms. Arancha Gonzales, ITC Executive Director, highlighted how ePing is about making trade happen by using technology to help SMEs comply with product regulations in foreign markets, reducing obstacles to trade.
Mr. Lenni Montiel, UN DESA Assistant Secretary General for Economic Development, lauded the solution as a practical and innovative approach to address trade-related obstacles to sustainable development.
Heads of UN DESA, WTO, and ITC signed a Memorandum of Understanding formalizing their cooperation.

Related Link: