Conference Highlights Deepening Economic Integration, Boosting Connectivity in South Asia
7 November 2016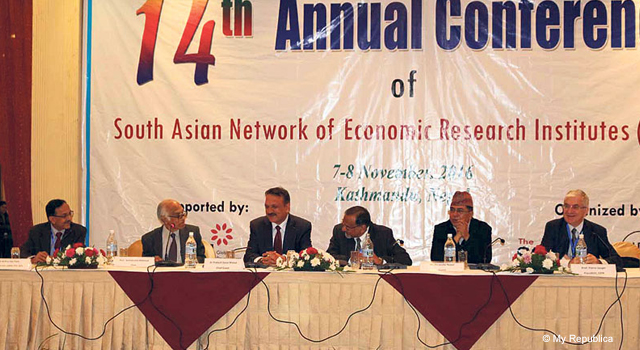 Nepal Minister for Foreign Affairs Prakash Sharan Mahat urged conclusion of the SAARC Agreement on Promotion and Protection of Investment to deepen economic integration among South Asian countries, and emphasized the need to improve connectivity in the region, in his address at the inauguration of the Fourteenth Annual Conference of the South Asian Network of Economic Research.
On connectivity, Mr. Mahat promoted the need for a regional air services agreement to enhance regional air connectivity and a regional transport corridor, including a South Asian railway network that improves access for landlocked countries in South Asia. He called for cross-border transport project financing and harmonization of rules, regulations and standards in South Asia.
Mr. Chiranjibi Nepal, Governor, Nepal Rastra Bank, highlighted how united efforts of countries in South Asia to develop a network of cross-country infrastructure could benefit the region – physical connectivity among South Asian countries through roads, railways, air linkages, waterways, information superhighways, and cross-country power transmission lines, will boost the flow of goods, services, finances, and information. He added that increasing investment in infrastructure would hasten the process of integration, and improve the region's capacity to increase the flow of financial, technological, and energy resources necessary to increase productivity and competitiveness.
The Conference gathered 50 international and 75 domestic participants, including foremost researchers, professors and economists of South Asia. Issues discussed include 'Global Production and Networks and Patterns,' 'Impact of Barriers on Trade,' and 'Implications of Regionalism.'

Related Link: