Bangladesh, Sri Lanka to Sign a Free Trade Agreement
10 November 2016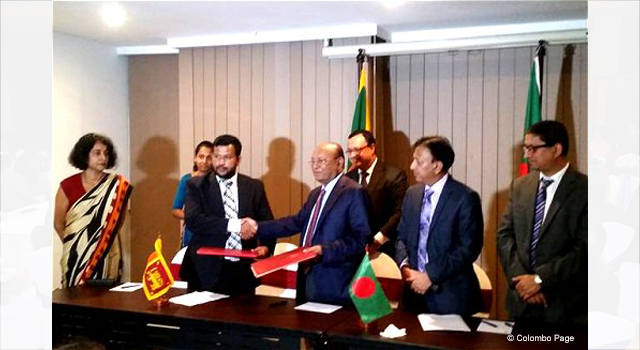 Bangladesh and Sri Lanka have agreed to sign a free trade agreement (FTA) to enhance bilateral trade between the two countries.
This decision came out of the Fifth Joint Economic Cooperation Session (JEC) between Bangladesh and Sri Lanka, held in Colombo, Sri Lanka, organized by the Department of Commerce of Sri Lanka.
Mr. Tofail Ahmed, Commerce Minister, Bangladesh, underscored how the FTA would enable Sri Lanka to import ready-made garments, pharmaceuticals, cement, paper and other products from Bangladesh at lower prices.
Bangladesh and Sri Lanka are keen to improve their trade volumes. In fiscal year 2016, Bangladesh and Sri Lanka trade amounted to $76 million, with Bangladesh export volume amounting to $30.45 million against import figure of $45 million.
The JEC discussed cooperation in trade and industry, including air services, tourism, shipping, and information and communications technology.
In his opening address, Mr. Rishad Bathiudeen, Minister of Industry and Commerce, Sri Lanka, lauded the strong trade, economic, cultural, financial and political ties of the two nations. He highlighted how JEC sessions continue to build already existing deep-rooted, long-standing relations between the two countries, and noted that the vast range of complementarities between Bangladesh and Sri Lanka, including memberships in regional and intra-regional groupings, such as the South Asian Free Trade Area, Asia-Pacific Trade Agreement, Bay of Bengal Initiative for Multi-Sectoral Technical and Economic Cooperation, can be transformed into tangible and mutually beneficial business alliances that will contribute to a balanced sustainable growth, according to the Industry and Commerce Minister.
Mr. Ahmed and Mr. Bathiudeen signed the working paper of the JEC. The Bangladesh-Sri Lanka FTA will be signed upon completion of formalities.

Related Links: