Power Trade to Help South Asian Countries Save $9 Billion Annually, Reduce Emissions
21 October 2016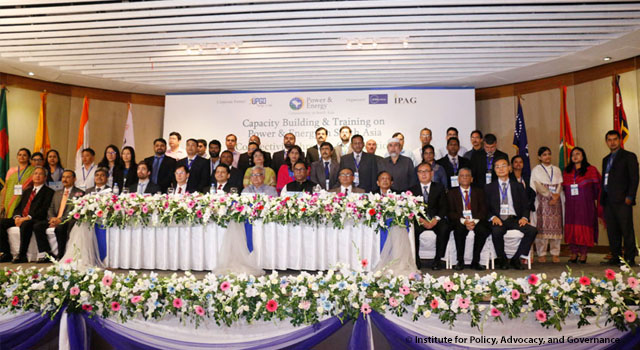 Regional energy trade will not only help South Asian countries save on electricity costs, it will also reduce harmful emissions and improve standards of living. This was the message at "Power & Energy in South Asia: Connectivity through Cooperation," a training program organized by the Institute of Policy, Advocacy and Governance (IPAG), the Asian Development Bank Institute (ADBI) and United Power, held on 21-22 October in Dhaka, Bangladesh. Policy makers from Afghanistan, Bangladesh, Bhutan, India, Maldives, Nepal, Pakistan, and Sri Lanka attended the event.
Dependence on single sources of energy in some parts of South Asia poses risk to energy security and hinders economic growth, said Mr. Naoyuki Yoshino, Dean of ADBI. He called for more investment in harnessing renewable energy potential in South Asia. Funds could be mobilized from government loans, taxation on carbon emissions, and funds from investors.
By engaging more in cross-border energy trade, South Asian countries could save over $9 billion annually and reduce carbon emissions by 8%, said Mr. Syed Munir Khasru, Chairperson, IPAG. Energy drives development, which translates into poverty reduction, he said.
Realizing the region's full energy potential requires joint management of resources, including through basin-wide management of common rivers, energy and electricity, especially hydropower, said Dr. Mashiur Rahman, Economic Affairs Adviser to Prime Minister Sheikh Hasina of Bangladesh. He pointed out the need to harmonize Customs procedures, taxation laws, and regulation of transportation standards and movement.
India is working on cross-border trade policy to allow Bangladesh Power Development Board to access electricity from any Indian company. Mr. Nasrul Hamid, State Minister for Power and Energy, Bangladesh, said this is a major development in cooperation between India and Bangladesh that will benefit the entire region.
Related Links: