Commentary: The Case for Stronger Ties in South Asia
9 October 2016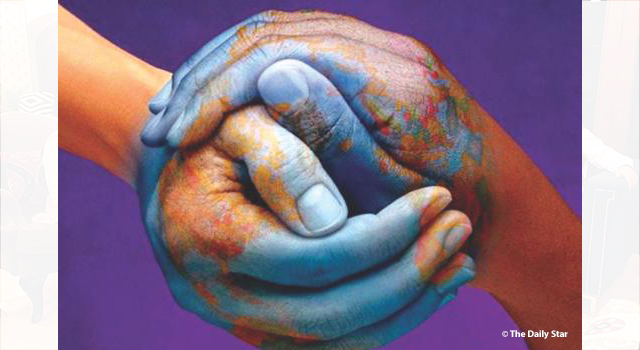 South Asia remains one of the least economically integrated regions in the world, with intra-regional trade accounting for a mere 6% of total trade. In recent years, countries in South Asia have shown increasing commitment to deepening regional cooperation through bilateral agreements and regional initiatives, including the Bangladesh-Bhutan-India-Nepal Motor Vehicles Agreement, to boost trade and market access. This commentary by Ms. Nahela Nowshin of the Centre for Policy Dialogue discusses the importance of regional initiatives in South Asia, as well as the need to promote dialogue on matters of regional cooperation and connectivity.
The Case for Stronger Ties in South Asia
By Nahela Nowshin
The historic adoption of the Sustainable Development Goals (SDGs) by the 193 UN Member States has led governments to commit to implement national action plans geared towards fighting poverty, combating climate change, promoting inclusive economic growth, and more. The 17 SDGs — dominating policy making discussions worldwide — attempt to strike a balance between the economic, social and environmental dimensions whilst providing a universal framework for tackling global challenges.
Governments, civil society groups, academics and other stakeholders in many of the 193 countries have begun the process of transposing these global objectives in the context of their respective national realities and circumstances. As such, country-wise prioritization of the SDGs and their mainstreaming into national planning strategies is critical. Here, the mapping of the SDGs from the 'global to national' perspectives necessitates focusing on regional frameworks.
In the case of South Asia, the potential benefits from regional agreements such as the SAPTA and the subsequent SAFTA have remained under-realized because of formidable challenges. South Asia has been trailing behind other regions in terms of competitiveness because these challenges have continued to remain unaddressed or not adequately addressed.
The latest findings of the Global Competitiveness Index (GCI) show that most South Asian countries rank in the lower half. India ranks the highest, in all of South Asia, having moved up several spots since last year to the 39th position out of 138 economies. Bangladesh climbed up a notch to claim the 106th position, with Sri Lanka, Bhutan, Nepal and Pakistan clinching the 71st, 97th, 98th and 122nd positions respectively. The GCI scores are calculated on the basis of twelve 'pillars' of competitiveness that include indicators such as business sophistication, market size and innovation.
Most countries in South Asia have improved in competitiveness making it the fastest growing region in the world. But despite having made significant strides in areas such as health and primary education, the region is lagging in the indices of infrastructure, financial market development and technological readiness.
A major hindrance to South Asia's competitiveness is the fact that it is one of the least economically integrated regions in the world. The strongest piece of evidence corroborating this is that intra-regional trade accounts for a mere six percent of South Asia's total trade whereas for the EU, NAFTA and ASEAN, the numbers are 66 percent, 48 percent and 27 percent, respectively. Further, intra-regional investment in South Asia is less than 1 percent of total investment, explaining why it costs more to trade within South Asia compared to trade with the rest of the world.
Although policymakers have taken commendable steps to promote intra-regional trade and investment over the years, there remain significant hurdles to achieve the full potential of these measures. In this connection, a recent publication by the Centre for Policy Dialogue (CPD) has proposed enhancing four types of connectivity to deepen regional integration in South Asia: trade connectivity, investment connectivity, people-to-people connectivity and transport connectivity. In view of this, issues related to trade and transport connectivity merit particular attention to stimulate investment and development of value and production chains in South Asia.
For Bangladesh, non-tariff barriers (NTBs) are a serious bottleneck to ease of trade with other countries in the region. Some of these are complex customs procedures and certification standards and the lack of physical infrastructure at border points. Since an enormous share of Bangladesh's trade with regional economies is conducted through land ports, the aforementioned factors pose a significant threat to the country's competitiveness. It could be argued that the implications of trade facilitation issues are even more far-reaching for landlocked Bhutan and Nepal.
Given that the ease of doing business is much worse in South Asia in comparison to other regions, reducing the cost of doing business, to put it simply, ought to be one of the national priorities for countries such as Bangladesh, Nepal and Pakistan. The good news is that in recent times, South Asian countries have begun to show increased commitment towards deepening regional ties. Regional initiatives such as BBIN's (Bangladesh-Bhutan-India-Nepal) Motor Vehicles Agreement (MVA) and bilateral commitments like Bangladesh-India Memorandum of Understanding 2010 are a step forward in the form of strengthened cooperation in the areas of transport and energy. Furthermore, bilateral cooperation between Bangladesh and India is increasing at a faster pace than any other pair of countries in South Asia. The commencement of transshipment operations and bus services between the neighboring countries have raised the prospects of greater trade dramatically.
In addition to undertaking regional initiatives to facilitate trade and market access, there is an urgent need to promote dialogue on matters of regional cooperation and connectivity in South Asia. An example of a platform for such a debate is the South Asia Economic Summit (SAES) conceived in 2008 by five leading think tanks in the region. At the ninth SAES, to be hosted by CPD in Dhaka in mid-October, issues related to regional integration in South Asia in the context of the SDGs and emerging challenges are expected to be discussed. High level policymakers, experts, eminent economists, business leaders, development partners and other key stakeholders from South Asia and beyond will take part in the Summit whose overarching theme is 'Reimagining South Asia in 2030'.
Civil society groups, policymakers and think tanks of South Asian countries, following in the footsteps of the aforementioned initiatives, should come together to exchange ideas, express concerns and propose solutions to the various issues stifling economic integration in the region.
As a region where nearly 40 percent of its total population lives on less than $1.25 a day, the urgency to fight poverty by capitalizing on and recognizing the economic benefits of regional integration for South Asian countries is further heightened. With the help of these kinds of initiatives, both on the policy and dialogue fronts, awareness will hopefully be raised with regard to the importance of bolstering regional cooperation in South Asia in a globalized world.