Bangladesh and Nepal Prime Ministers Keen on Hastening South Asian Integration
16 October 2016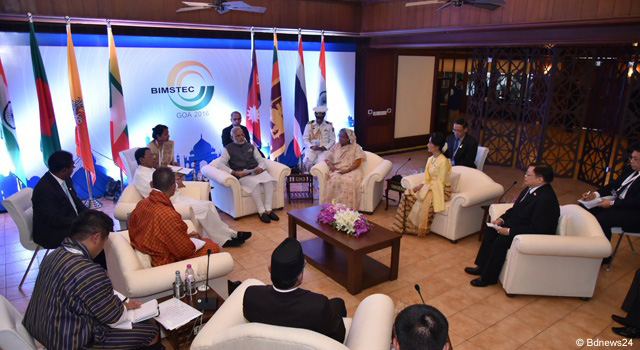 Bangladesh and Nepal officials have emphasized the need to both hasten and deepen integration among South Asian countries through the Bay of Bengal Initiative for Multi-Sectoral Technical and Economic Cooperation (BIMSTEC).The BIMSTEC territory comprises Bangladesh, Bhutan, India, Myanmar, Nepal, Sri Lanka, and Thailand and is home to more than 1.5 billion people.
Bangladesh Prime Minister Sheikh Hasina said leaders in the region must work to finalize deals relating to the BIMSTEC Free Trade Area Framework Agreement (FTA) to boost trade in the region: "We need to reiterate our political will in favor of the FTA implementation. It will help to enhance our intra-regional trade and will boost BIMSTEC activities and programs." Doing so would improve the lives of people in the region and provide livelihood opportunities.
Prime Minister Hasina was speaking at the BIMSTEC Leaders' Retreat on 10 October in Goa, India, held before the Brazil, Russia, India, China and South Africa (BRICS)-BIMSTEC Outreach Summit. India Prime Minister Narendra Modi was present at the event to welcome leaders of the BIMSTEC countries.
Acknowledging that BIMSTEC has been making slow progress in connecting South Asia and Southeast Asia, Prime Minister Hasina stated the groundwork has been done: "It is now time to hasten the process of integration […] Regular ministerial meetings on the key areas of cooperation are important for building momentum," adding that the region needs to focus on cooperation in terms of trade, energy, and connectivity.
Nepal Prime Minister Pushpa Kamal Dahal also underscored the need for connectivity, stating that BIMSTEC can be a dynamic engine for development. "The engine of growth and development cannot perform in full capacity without intensifying cooperation," he said.
Prime Minister Dahal sees a need for deeper integration in core areas such as energy cooperation, given that Nepal offers hydropower resources that can help the region establish a reliable energy mix.
Related Links